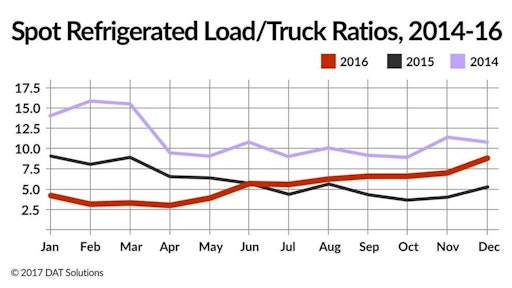 Truckload volumes rose 8 percent in December 2016, capping off six straight months of increases on the spot market. 
Six straight months. 
It's been a long haul out of the doldrums. After two years of sluggish volume, a turnaround began last May and year-over-year volume comparisons turned positive in August and never really let up.
Reefer freight availability increased 10 percent in December compared to November, primarily due to demand for fresh and frozen foods at Christmas. The reefer load-to-truck ratio of 8.2 was the highest monthly ratio in the past 21 months, meaning there were 8.2 available loads for every truck posted on the DAT network of load boards. Compared to December 2015, reefer volume was up 55 percent in December.

The national average spot rate in December was $1.98 per mile for reefers, up 2 cents from November and equal to the June peak-season average. Compared to December 2015, the average rate was 2 cents per mile higher.

The trend continued through mid-January, with the national average rate hovering around $2 a mile. Prices were mixed on key produce lanes but for predictable reasons: in California, heavy weather in the first three weeks of the year put a damper on freight movements; along the southern border, a high volume of produce imports kept trucks in demand. The average outbound spot reefer rate from McAllen, Texas, was $2.05 a mile, up 4 cents during the week ending Jan. 14.

Spot prices will be interesting to watch in 2017. Capacity may tighten this year, especially as the industry prepares for the mandate on electronic logging devices. Many small fleets and owner-operators have yet to switch from paper logs, and the prevailing wisdom is that they may exit the business rather than use ELDs.

Those smaller carriers—the ones most affected by regulatory and economic shifts, as well as changes in fuel prices—comprise the bulk of spot-market capacity. If capacity shrinks, prices could get interesting.