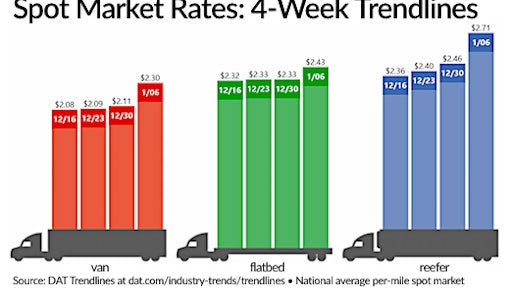 Amid extreme weather and tight capacity, national average spot truckload rates saw double-digit increases during the week ending Jan. 6, according to DAT Solutions, which operates the DAT network of load boards.
The number of available loads increased 27 percent, in line with expectations when a full workweek follows a holiday-shortened one. However, the number of trucks posted to DAT load boards was up just 7.4 percent, and the imbalance pushed load-to-truck ratios up for all three equipment types:
Van load-to-truck ratio: 14.7, the highest van ratio ever recorded in DAT Trendlines

Flatbed ratio

: 63.5, up 22 percent

Reefer ratio

: 25.2, up 6 percent
Van Rates
In the van market, load posts jumped 26 percent, but truck posts were up only 6 percent, as many truckers were still taking time off. The national average van rate was $2.30/mile, up 19 cents compared to the previous week.
Houston ($2.02/mile, up 11 cents) was the top market for outbound van volume and most of the top 100 van lanes saw higher rates. A sampling:
Chicago, $3.02/mile, up 10 cents

Columbus, Ohio

, $2.87/mile, up 9 cents

Buffalo, New York

, $2.87/mile, up 5 cents

Philadelphia

, $2.35/mile, up 5 cents

Memphis

, $2.58/mile, up 10 cents
Van markets where rates were down included Los Angeles ($2.86/mile, down 11 cents) and Dallas ($2.07/mile, down 7 cents). There were big drops on other van lanes that have been otherwise busy:
Los Angeles-Dallas was down 21 cents to an average of $2.27/mile

Dallas-Denver

dropped 22 cents to $2.58/mile

Seattle-Salt Lake City

lost 33 cents to $2.44/mile
Reefer Load
Reefer load posts on DAT load boards increased 14 percent, while reefer truck posts increased only 7 percent. The national average spot refrigerated rate increased 25 cents to $2.71/mile, a record high for reefers. Nogales, Arizona was the only produce-shipping market to post any big rate increases last week. Miami, Sacramento, and Lakeland, Florida all experienced sharp drops last week.
Demand for refrigerated trailers peaked at year-end, but cold weather in parts of the country has kept prices at record levels where reefer trailers are used to keep freight from freezing.
Flatbed Loads
Flatbed load posts surged 46 percent, and truck posts increased 20 percent last week. The national average flatbed rate climbed 10 cents to $2.43/mile to start the year.
The national average price of on-highway diesel fuel increased another 10 cents to $3.00/gallon. Spot truckload freight rates include a fuel surcharge portion.
Rates are derived from DAT® RateView, which provides real-time reports on prevailing spot market and contract rates, as well as historical rate and capacity trends. For the latest spot market load availability and rate information, visit dat.com/industry-trends/trendlines, or join the conversation on Twitter with @LoadBoards.