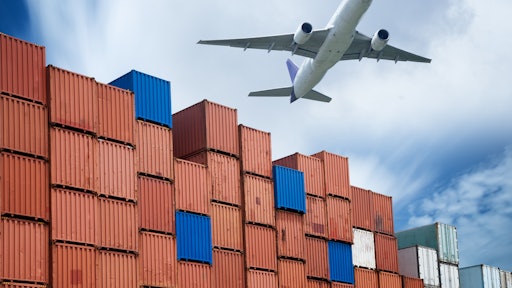 anekoho - stock.adobe.com
This season of shopping — and shipping — is shaping up to be like few others. The economy dictates everything right now, and it's stirring a lot of uncertainty.
Inflation, interest rates, economic fears, not to mention lingering supply chain slowdowns are all cooling consumer demand. It's a notable difference from last year when spending surged after months of restrictions and lockdowns.
A recent CNBC All-America Economic Survey showed more than 40% of shoppers plan to spend less this year, marking the most cautious holiday season since 2013.
We began to see warning signs when demand waned in the summer, which typically is a strong shipping period for a lot of holiday items. Excess inventory has now put many businesses in delicate positions. Unloading that extra product is impacting every aspect of the freight industry and affecting everything from rates to delivery schedules.
Below are some of the biggest takeaways on ways to navigate this holiday season.
Embrace shrinking delivery windows
The overall trend indicates delivery standards continue to rise even as market conditions toughen.
Customers expect product within days — not weeks — and how to meet that demand is evolving.
The supply chain disruptions brought on by the pandemic sparked a debate within the transportation industry over the viability of just-in-time (JIT) delivery. For decades, companies relied on the model to reduce excess supply and create a lean production process. Experts now argue whether businesses are reverting to the JIT model of maintaining higher inventory loads to ensure operations.
Certainly, many companies are building more cushion into their supply lines. And yet moving away from the impulses of JIT remains difficult.
In fact, some customers remain fully committed to a supply chain based around JIT inventory, while others seem to be adopting a hybrid of the two models.
Shippers say they're pursuing strategic adjustments by making calculated increases to their inventory to build in cushion at sensitive junctions. Many are also discussing ways to shorten their supply chains. It is not, however, a widespread overhaul or complete abandonment of JIT.
One of the biggest lessons learned from the pandemic is that businesses can't rely solely on JIT. But they also can't afford to risk over-stocking their supplies, as we're seeing now.
Even with firms taking a more conservative approach with their supply to avoid running out of stock, delivery windows will inevitably grow smaller.
It's critical for shippers to fully evaluate logistics and plan carefully to ensure they have a strategy that meets ever-shrinking deadlines.
It must be on-time, in full
As delivery windows close and expectations rise, many retailers are imposing tighter standards on their suppliers and carriers.
The trend is still moving toward embracing the on-time/in-full (OTIF) model, which demands shippers deliver goods during a very specific timeframe — not too early or late — otherwise they face a stiff penalty.
However, persistent supply chain disruptions have made meeting those requirements more important and challenging.
Customers want their shipments delivered complete and on time, and many have begun measuring their suppliers against tighter key performance indicators (KPIs). Some businesses are instituting new metrics to closely measure the performance of their suppliers, which in some cases, has translated into new fines and penalties for non-performance.
Shippers are now expected to work extremely closely with carriers to guarantee fulfillment expectations. Companies should be prepared to analyze every possible influence, no matter how small.
Constant communication is critical
One way to meet those rising needs is embracing constant communication. Customers now depend on frequent updates, and shouldn't have to call their carrier to get them.
Solid two-way communication is becoming increasingly important in this digitized world. Shippers and carriers must understand each other and be willing to share real-time data in both directions to reduce risks and optimize relationships. Suppliers are also moving toward integrating carriers into long-term plans in areas like growth projections, expanded facilities, volume shifts and lane changes.
Certainly, technology is more central than ever to offer tracking and visibility. Real-time shipment updates affect the bottom line; they give shippers flexibility and options to handle any unforeseen fluctuations. Even relatively minor adjustments can have a major impact, such as increasing the frequency of updates through the transport management system (TMS) or electronic data interchange (EDI).
Transportation providers must pursue innovation to boost communication and transparency and help the industry move away from manual operations. The trucking industry, specifically less-than-truckload carriers, has reached an inflection point where digitization and automation are becoming indispensable to the future.
Shippers are choosing carriers carefully
The change and uneasiness impacts prices and delivery schedules. Many carriers are facing an incredible amount of strain and pressure to meet rising demands, particularly during the holiday rush.
That stress is leading to backlogs and putting businesses at a major disadvantage. Some carriers simply do not have the capacity; they've had to cut off business and limit the number of accepted shipments, until more capacity becomes available. Retailers have been forced to warn suppliers of delays as they work to manage expectations around delivery timing.
All of this puts an increased emphasis on choosing the right transportation partner – one that has the capacity and expertise in navigating the complexities of shipping to retail customers. Attributes like reliability and on-time service are more valuable in today's macro environment.
Overall, customer expectations are growing, even as economic stress factors remain. Many businesses are prioritizing carriers that can meet the needs of constant communication and tighter delivery timeframes. Collaboration must remain the central priority to ensure products are delivered OTIF and in perfect shape – no matter the season.