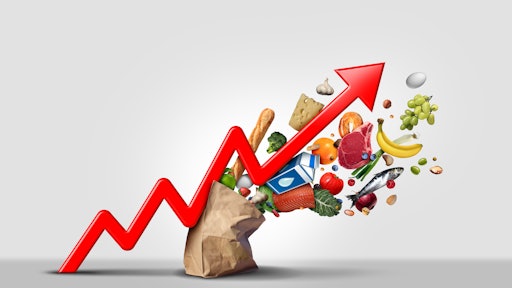 freshidea AdobeStock_476362981
The October Producer Price Index rose 8% over last year and 0.2% since September, indicating that the consumer packaged goods (CPG) industry still faces steep prices for commodities that remain above overall wholesale prices, according to the Consumer Brands Association (CBA).
In fact, food manufacturing produce price index (PPI) is up 10.4% year-over-year and 25.9% above pre-pandemic levels seen in February 2020.
"There are countless factors impacting production costs right now as ongoing supply chain disruptions are constantly at play," says Tom Madrecki, VP of supply chain for CBA. "As CPG manufacturers adjust their inventory strategies, staffing and recruitment models and shipping decisions to account for the supply chain challenges, the federal government must take action to boost supply chain resiliency."
From Consumer Brands Association:
Key commodities continue to show wholesale prices well above last year and significantly higher than pre-pandemic norms. Year-over-year, eggs spiked 158%, grains increased 29% and pasta is up 37%. While there was some decline in wholesale meat prices, turkeys are up 40% over last year. Diesel fuel has risen 62% year-over-year, making a significant impact on the CPG industry, which accounts for one-fifth of all freight transportation.

The possibility of a national freight rail shutdown is again on the radar of potential threats to supply chains. After reaching a temporary agreement to narrowly avert a rail strike in September, unions announced a new agreement deadline in early December. A strike-induced national freight rail shutdown would upset availability of key inputs and cost $2 billion in lost economic output a day.
"The supply chain is improving but is far from where it needs to be to weather disruptions. A rail strike would be a tremendous blow to its recovery and one that must be avoided at all costs," adds Madrecki.