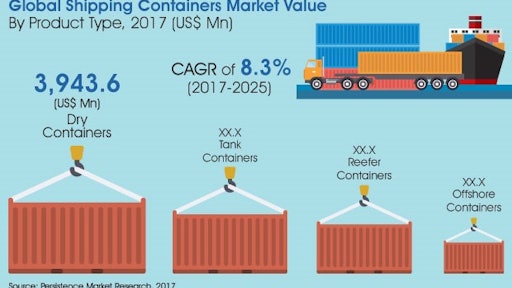 New market research by Persistence Market Research indicates the worldwide market for shipping containers is likely to experience remarkable market estimation and a strong growth pace all through the assessment period of 2017-2025. While the market has been experiencing an optimistic expansion trend ever since 2012, the global market for shipping containers is anticipated to exceed $11 billion and expand at a healthy pace to record an 8.3 percent value CAGR by 2025.
A shipping container is a holder with quality appropriate to withstand handling, storage and shipment. They extend from huge recyclable steel boxes utilized for multi-purpose shipments to the omnipresent corrugated boxes. A container is intended to be moved starting with one form of transport then onto the next without reloading and unloading. These containers encourage transport of products by means of both land and ocean borne forms of transport that might include utilization of ships, trucks and/or rails. Hence, intermodal transport of products has turned out to be more proficient. In addition, leasing of shipping containers has turned out to be a prevalent trend all over organizations around various areas because of its reasonableness, comfort and effortlessness to store vast measure of stuff.
In addition, the development of the shipping containers at a worldwide level is pushed by the development in economy, increasing seaborne exchange, expanding requirements for very effective and predominant capacity shipping containers, development in sales of particular shipping containers through department of protection, as well as growing trend of rising utilization of remote container management (RCM) arrangements.
Other features in the market that have affected the market's expansion include:
Growing requirement for profoundly proficient and greater capacity containers for shipping all over the globe

Growing sales of specific containers for shipping purposes attributable to expanded requirement for these containers

Relentless expansion of seaborne trade, increasing containerization

Growing use of RCM arrangements

Rising inclination for 40-foot cube containers

Considerable requirement for reefer holders and positive government regulations relating to emissions, 

which is driving the utilization of ecological refrigerants in shipping containers 
On the other hand, factors such as overcapacity, fluctuations in raw material prices and low freight rates are considered to obstruct the expansion of the worldwide market for shipping containers in the coming years.