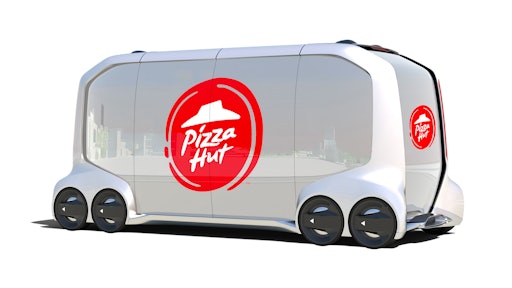 How pizzas are delivered, even made, may soon change following a Jan. 8 announcement from Pizza Hut and Toyota at the Consumer Electronics Show (CES) in Las Vegas. 
Toyota, the world's top automaker, and Pizza Hut, which serves and delivers more pizzas than any other pizza restaurant in the world, have forged a global partnership to explore the future of pizza delivery and other initiatives to improve mobility around the world. 
Toyota unveiled designs of a self-driving concept vehicle called e-Palette at CES, and Pizza Hut is one of the founding members of a new "mobility service business alliance" that also includes Amazon, Didi, Mazda and Uber.
The announcement follows a number of initiatives from Pizza Hut created to provide the best delivery experience, including a new delivery algorithm that drastically improves the accuracy and reliability of deliveries, new delivery pouches able to keep pizzas up to 15 degrees hotter, and a pilot test of beer and wine delivery in the United States.
"In our ongoing and relentless pursuit to own and define the modern pizza experience for our customers, we are focused on technology-based solutions that enable our team members and drivers to deliver even better customer experiences," said Artie Starrs, president, Pizza Hut, United States. "With Toyota, we are excited to be partnering with an undisputed leader in human mobility with a reputation for innovation, reliability and efficiency, as we define the pizza delivery experience of the future."
The new mobility service business alliance will leverage Toyota's proprietary Mobility Services Platform (MSPF) to develop a suite of connected mobility solutions and a flexible, purpose-built fully-autonomous vehicle. The alliance will create a broad-based ecosystem of hardware and software support designed to help a range of companies utilize advanced mobility technology to better serve customers. Toyota plans to implement testing of the e-Palette Vehicle Concept in several regions, including the United States, as early as 2020.
For Pizza Hut, the e-Palette solution could support the company's delivery business in the future or, given the flexibility of the e-Palette design, even serve as a mobile kitchen in areas of the world where such an experience would match consumer interests.
"We are truly inspired to be part of this alliance, as the visions for our brand and those of Toyota are very similar," said Milind Pant, president, Pizza Hut International. "We are about making it easier to get a better pizza, and Toyota is about providing mobility for all. Toyota is an exceptional fit as a technology partner to accelerate our commitment to the best delivery experience."
Along with working together on autonomous delivery solutions, the companies will immediately begin working on plans to improve the existing driver/delivery ecosystem. Starting in early 2018, Pizza Hut and Toyota will jointly test dual communication technology in Pizza Hut delivery vehicles to capture data on driver patterns and behaviors. Better data will result in improved performance for both companies, optimize the safety of delivery, as well as enhance delivery operations. 
"The common ground between our two global brands is fueled by innovation that enriches peoples' lives," said Zack Hicks, chief executive officer of Toyota Connected. "The e-Palette Alliance and e-Palette fully-autonomous vehicle are major steps in our expansion to advance products and services that help provide mobility for all, and we're thrilled to continue the journey in partnership with Pizza Hut."