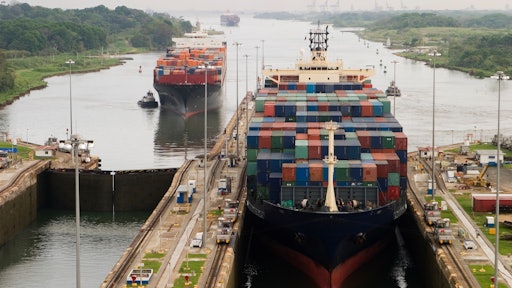 searagen AdobeStock_2989787
As wholesale inventories dwindle in the United States, the ongoing restrictions at the Panama Canal could have implications for holiday stocks and supply chains, according to new research from Container xChange.
The Panama Canal plays a critical role for U.S. shippers en-route to Gulf and East Coast ports. The United States accounts for 73% of Panama Canal traffic representing about $270 billion in cargo.
"Ongoing challenges at the Panama Canal are making existing worries for industries even worse. New industry information shows that the U.S. economy's consumer spending has seen an uptick, which is good. With inventories falling and demand expected to rebound, the Panama Canal, which carries 40% of container traffic from Asia to Europe, is likely to experience increased pressure," says Christian Roeloffs, co-founder and CEO of Container xChange.
Key takeaways:
With the Panama Canal Authority implementing water conservation measures in response to a drought, vessels are experiencing prolonged wait times and capacity limitations, resulting in a ripple effect across the shipping sector.
Prominent industry sources have reported a notable increase in blanked sailings – the practice of cancelling scheduled sailings to manage capacity. Specifically, during June and July, approximately 10.8% of the regular sailings connecting Central China and Europe were cancelled. Comparable patterns have also emerged in the transpacific trade lanes. As a direct result of these capacity reductions, the market has witnessed a corresponding rise in spot freight rates. This outcome aligns closely with earlier projections made by industry experts.
The ongoing efforts by the Panama Canal Authority to conserve freshwater amidst the prevailing drought conditions have contributed to a substantial backlog of vessels – currently numbering around 200 – awaiting their turn to transit through the canal. As this queue lengthens, waiting times have surged to a peak of 21 days, introducing significant delays across multiple segments of the shipping industry.
·Measures such as the restriction of booking slots and adjustments to vessel weight requirements have compounded the existing backlog, further elongating waiting times. This, in turn, is putting a strain on shipping schedules.
"These supply chain disruptions are expected to reverberate throughout the industry, with potential consequences for container prices. The ongoing congestion and reduced capacity have led to heightened competition for available slots, driving up spot freight rates. The scarcity of available vessel capacity has prompted carriers to reevaluate pricing strategies to offset increased costs and uncertainties. Consequently, the traditional equilibrium of container prices may experience adjustments to accommodate the challenges of the Panama Canal congestion," says Roeloffs.