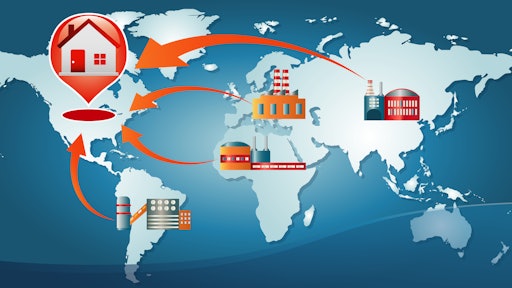 melita
Companies currently comparing and contrasting offshoring vs. nearshoring may not be spending their procurement resources wisely. The practice of using the best resources for handling the business processes required to run an efficient and productive food logistics operation is, in a word, outsourcing.
Newcomers to this strategy might not grasp what it takes to foster revenue growth, gain and maintain a competitive advantage, streamline operations and boost profitability; they may need an experienced and dedicated partner who offers outsourced services backed by technology and industry expertise.
Considering recent reports from the U.S. Department of Labor, it is a decision most may have to make sooner rather than later. While in December 2022, the trucking industry gained around 2,100 workers compared to the previous month, in 2022, average job growth in transportation and warehousing was about half the rate experienced in 2021.
Overall, DOL data points to steady job growth across the economy. With companies continuing to add jobs and recent unemployment rates dropping to a five-decade low, competition with other industries for available workers is poised to intensify.
All of that points to the need to consider outsourcing some essential functions, and if considering business process outsourcing (BPO). Understand that while there isn't a one-size-fits-all solution, the criteria you prioritize will determine if your choice is effective and the approach is successful.
Here are the Top 4 factors for food logistics companies to consider when searching, researching and choosing a prospective BPO partner or solution.
1. Consider your provider's dedication to meeting your operation's needs.
Having the confidence that your BPO partner will prioritize facilitating the needs of your logistics operation is crucial, even more so considering the constantly changing and unpredictable freight market.
Ask if they have the ability to quickly scale up or down the services they provide as freight volumes change. Find out if they have the resources in technology and talent to assist when unforeseen circumstances arise. Inform them of your business goals and have them pitch how their work supports achievement of those goals. It's very important to know that your provider will work diligently as an extension of your team.
Consistent, timely and frequent communication is vital for any business, and perhaps even more so in a BPO relationship. Does the provider you're considering have those capabilities? Are they transparent and will they be a true partner, not just a vendor?
2. Insist on the right Service Level Agreements (SLAs)
Uncharted waters are common in food logistics operations. Does your BPO provider have the experience and expertise to help you navigate them? At their core, SLAs are contractual agreements, so making sure they include key components that reflect your needs and business goals is essential. Those include:
● Increased visibility. Communication and reporting capabilities that allow you to make better business decisions, whether conducting business as usual or facing a highly disruptive external market force.
● Accuracy rates. Agree on KPIs that reflect your company's customer service and accounts receivables goals, including the possibility of incentives for meeting and exceeding accuracy rates defined in the SLAs.
● Average handling time. For voice-related functions, such as inbound customer support requests, set metrics that align to your customer experience goals.
● Robust data protection. Confirm that BPO is delivered in a highly secure manner, with protections in place for network infrastructure, your data and that of your customers.
● Processing speed and service hours. Ensure that turnaround time and processing schedules make sense for your operation.
● Productivity rates. For inside sales, use revenue per rep. For data entry, use keystrokes per hour. Either way, setting this SLA will lock in outsourced team's productivity at your desired output level.
● Cost containment: Choosing pricing that does not penalize you for growth and also safeguards you from market slowdowns. In short, a long-term SLA should shield you, not just your BPO provider, against unforeseen circumstances.
3. Look into the provider's application of technology
While technology innovations can be exciting, it's all too easy to get caught up in the promise of new tools, products and services. Never implement a BPO solution without ensuring that the technology behind it makes your operation smarter and more strategic.
It's important that your partner remains current with the right technology and knows how to apply new innovations that make the most sense. A good sign is a business process outsourcing provider with a track record of developing programs and technologies in-house designed specifically to make their processes for clients more efficient and customizable as needed.
4. Find an experienced business processing solution provider
Don't settle for the least costly or a less experienced company in the BPO space. Although you're saving costs, you are about to make a significant move by entrusting key business functions to the hands of a provider. A good threshold is industry specialization for a minimum of 10 years– a vendor who is a true expert in not only the processes you're looking to outsource but also in the industry you serve. Remember they represent you, so experience not only with process but with adapting to company culture is key.
Due diligence should include asking these questions:
● What are their existing clients saying about their accuracy, capabilities and reliability? Don't be afraid to vet their referrals and industry sources.
● Do they truly understand the food logistics industry and your business model?
● Do they know and can they fully support your business goals?
● Can their capabilities, capacities and functionality adapt with your changing needs? How flexible and customizable are their solutions and systems?
● How many years of experience do they have?
● Do they have solid business continuity planning?
The bottom line
Overall, an experienced and dedicated team that is able to work around-the-clock as an extension of your company is essential to any successful business process outsourcing plan. Providers who offer the most effective and correct mix of processes, technology and knowledge are critical as well.
Taking the time to make an effective offshoring vs. nearshoring— or rather an outsourcing— decision will provide the most value by allowing you to focus your resources on what really matters, the ability to drive growth and improve profitability.