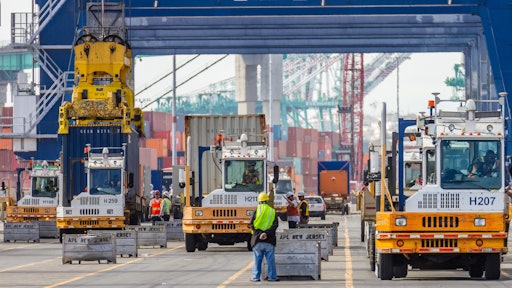 Port of Los Angeles
In the ongoing fight against Longshore and Warehouse Union members and automation, the port of Los Angeles is siding with automation, potentially causing devastation to workers, their families and the community.
Last month, the port of Los Angeles voted to move forward with plans to automate its APM terminal. However, the Los Angeles City Council vetoed the commissioners first decision, instead, asking them to reconsider plans.
Commissioners repeated their vote from last month, denying an ILWU appeal and standing with APM Terminals to allow automation.
Meanwhile, both sides are continuing to talk about possible agreements that could help protect workers going forward, the Daily Breeze reports. One element of the talks plants to set up a worker-training facility in Wilmington that would help dockworkers transition to different skills. Workers would be able to use the facility for free and receive full pay while training.
APM is still confident that it will move forward with its plans to automate its terminals, claiming that the technology will help its remain competitive. However, few argue that there is a larger picture that needs to be considered as ports begin to automate. It is unclear at the time of this publication how employees will be affected by the new technologies.
"When I hear about training, I'm not sure yet what we're training for," Commissioner Anthony Pirozzi tells the Daily Breeze. "What are those jobs of the future? It's changing all around us and we cannot deny it."
According to the Daily Breeze, APM Terminal operators have said they will begin automating the first 100 acres of the 440-acre Pier 400, whether with the electric equipment the permit allows or with diesel charging stations. The equipment is already on its way to the port and should arrive in the coming weeks.