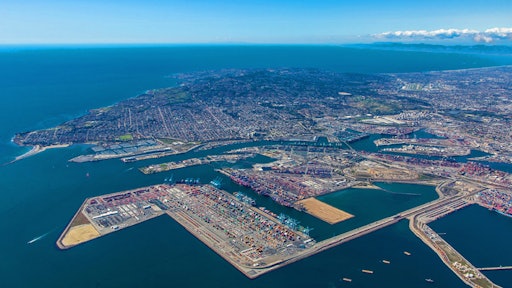 Port of Los Angeles
American Shipper reports that the Los Angeles Board of Harbor Commissioners has postponed a vote on whether to uphold the approval of a coastal development permit granted to APM Terminals so it could modernize the facility with automation.
The board reportedly voted unanimously to postpone the vote on the permit after a letter was received from Los Angeles Mayor Eric Garcetti saying that he was meeting with representatives of APMT and the International Longshore and Warehouse Union, which is asking for the permit to be denied as it is concerned that automation at the terminal will result in job terminations for its members.
American Shipper reports that APMT has requested a permit to make changes at its Pier 400 terminal under the California Environmental Quality Act, however, port of Los Angeles staff found the changes the company is planning will have minimal change in land and water use and advance the port's goals of optimizing land use and increasing cargo terminal efficiency. The ILWU is challenging the permit by requesting an expansive reading of the CEQA regulation, saying that the economic impact of job losses at the facility on the surrounding community should be taken into account as part of the environmental impact of the changes the company wants to make, American Shipper reports. At least 2,000 union members showed up for a hearing last month opposing APMT's plan for the automated port. However, APMT said there is no legal basis for the ILWU appeal as there is nothing adverse to the environment in the infrastructure improvements it is proposing.
To read the full original article, please click here.