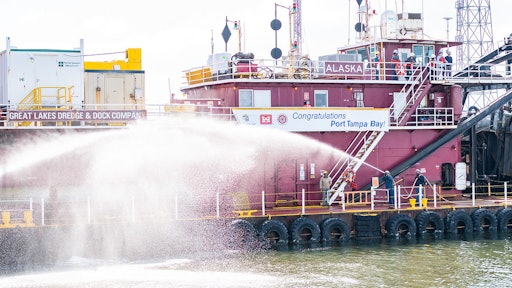 Port Tampa Bay
Port Tampa Bay's Big Bend Channel expansion has completed a year ahead of schedule. The $63 million milestone project deepened and widened the channel, allowing for larger ships to call at the terminals. The expansion will ultimately reshape the port into a vibrant distribution and manufacturing district, bringing millions of goods through the I-4 corridor, the fastest growing sector of the state.
"This is one of the largest projects we have worked on at Port Tampa Bay," said Port Tampa Bay President/CEO Paul Anderson. "This is a legacy that truly reshapes our economic landscape and will impact generations to come."
Beginning in October 2018, the project was slated to take 18 months, but finished in six. With its transformation, Port Redwing is expected to develop into a major hub for warehousing and distribution within the next decade.
The project deepened the entrance channel, east/west channel, inner channel, turning basin, and local service facilities at Big Bend from 34 to 43 feet. It widened the entrance channel from 200 to 250 feet for a length of 1.9 miles. It also deepened the existing turning basin to 43 feet, and expanded the existing turning basin to 1,200 feet.