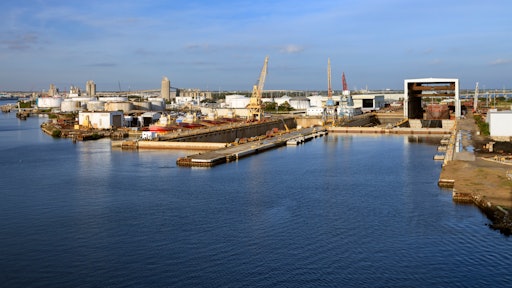 Getty Images
China's first weekly container ship arrived at Port Tampa Bay, stacked six deep with shipping containers filled with furniture, clothing, electronics, food and solar panels.
The ship, Piraeus, left China in late December on a month-long journey that took it through the Panama Canal and to Houston and Mobile, Alabama, en route to Tampa. The service by Cosco Shipping Lines was long-sought after and is one of the world's largest container carriers. The shipping line aims to move about 500 containers a week through Tampa, Tampa Bay Times reports. The ships are expected to arrive on Mondays and will consist more of raw products rather than consumer goods.
"We've been dealing with the Port Tampa Bay people for years," Cosco executive vice president Howard Finkel tells the Tampa Bay Times. "There's local cargo. There's Orlando cargo. There's cargo going to South America. There's a lot of different channels here that are interesting to us, and now seemed like the right time. We have enough shipper feedback where we think this is going to be a very successful port of call for us."