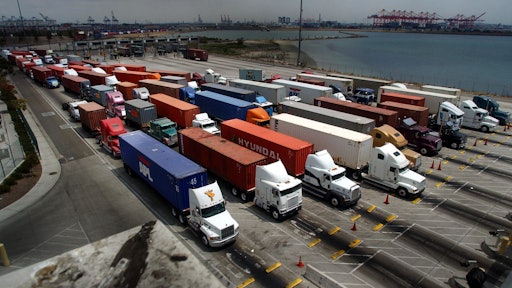 The Los Angeles Times reports that a U.S. Supreme Court ruling cleared the way for drivers to sue trucking companies, potentially making a major impact on the labor battle that has been surrounding the port of Los Angeles for years.
The ruling decided that trucking firms may not block workers from filing class-action lawsuits, even if they are considered to be independent contractors rather than employees. The decision came in a case filed by Dominic Oliveira, a long haul driver from a Missouri-based carrier. Oliveira suggested the company failed to pay him and other workers the legal minimum wage and falsely classified them as contractors rather than employees to avoid labor laws, the Los Angeles Times reports.
The decision strengthens the efforts made by the International Brotherhood of Teamsters, which has been fighting trucking companies at the ports of Los Angeles and Long beach over classification of over 20,000 drivers.
Over the last decade, lawsuits over misclassification of workers have grown across several industries, and have expanded to companies such as Uber and Lyft.
While teamsters and drivers are applauding the ruling, some people aren't as happy. In a statement released by the American Trucking Association said that the decision "will make it harder for motor carriers and independent owner-operators alike to rely on agreements to resolve their disputes through arbitration." The trade group also suggested that it will raise costs across the supply chain as well.
Oliveira's case found that the 1926 Federal Arbitration Act carved out an exception for "workers engaged in foreign or interstate commerce." The exception was written into the law as Congress had enacted a different path for transportation worker disputes.
New Prime, the company Oliveira worked for, suggested that the court "establish a favorable federal policy toward arbitration agreements" in the case, but it was shot down.
It is unclear whether the ruling has a broader impact on other companies that classify drivers and independent contractors. The companies are fighting wage-theft claims by requiring workers to sign arbitration agreements.
The Los Angeles Times reports that just hours after the Supreme Court issued its opinion, a motion was filed in the U.S. District Court in Seattle arguing that the decision justified lifting a stay in a lawsuit against Amazon Logistics. However, Richard Reibstein, a New York attorney said the Supreme Court decision only applies to federal arbitration law since state arbitration laws generally do not include an exception for transportation workers.
To read the full original article, please click here.