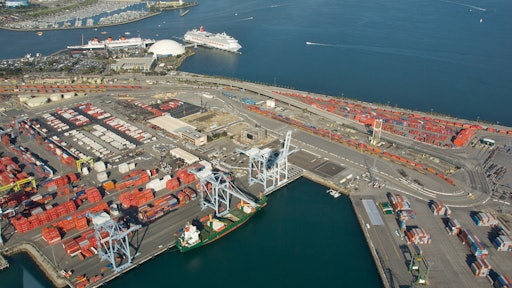 The Pacific Merchant Shipping Association (PMSA) has expressed concern with how long containers are spending at terminals at the port of Los Angeles and Long Beach before they are picked up for delivery, as well as eroding share of the container shipping business as West Coast ports, American Shipper reports.
PMSA claims that average "dwell time" for containers at the two ports rose to 3.51 days in November from 3.26 days in October and 2.89 days in September, the highest it has been in the last two years. Adding to that, 13 percent of all containers have been reportedly sitting at terminals for more than five days before getting picked up for delivery as compared to 11 percent of containers exceeding a five-day dwell time in October and only 5 percent in September.
It is critical that containers flow out of terminals in less than three days in order to avoid congestion. American Shipper reports that the port of Los Angeles and Long Beach are the nation's two largest container ports, so congestion issues are a major concern. Additionally, PMSA has highlighted the eroding market share of West Coast ports as well. PMSA vice president Mike Jacob wrote in its December newsletter, "While our volumes were down to flat, our market share erosion has been palpable. At just over 30 percent of total North American containers, California's seaports in 2015-2017 had a lower market share than every year going back to 1997." Market share of North American container traffic has dropped from 41.1 percent to 37.6 percent.