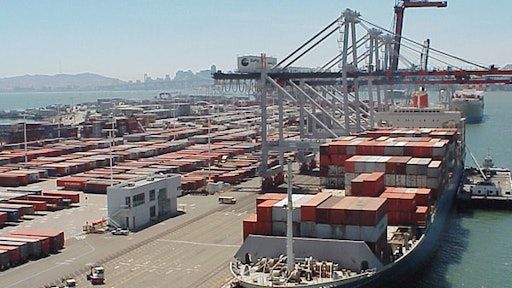 The Port of Oakland's TraPac marine terminal will now be open at night for full-service on Mondays through Thursdays to ease congestion during the daytime and accelerate containerized cargo deliveries.
Previously, TraPac offered night gates twice a week with limited transactions for freight haulers. With the added days, truckers can now deliver export containers, collect imports and pick up empty containers or container chassis.
Drivers are now able to pick up or drop off cargo from 6 p.m. to 3 a.m. Meanwhile, daytime hours remain unchanged.
Transactions will be able to be completed quickly at night due to traffic being lighter and that daytime truck lines will shorten as a result of night shifts.
Starting Oct. 29, appointments will be required for imports, exports and the return of empty containers. Appointments aren't needed for empty containers. Additionally, the terminal will assess a $30 fee on all loaded containers during day and night shifts to defray the cost of extended operating hours, American Shipper reports. Loaded containers leaving the terminal through rail won't be charged a fee.