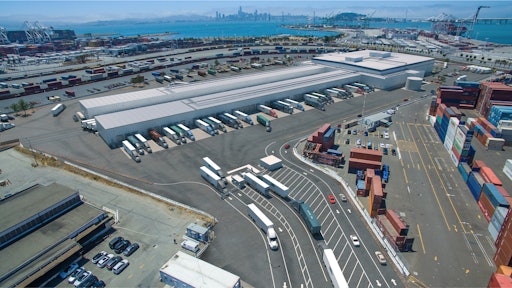 Lineage Logistics and Dreisbach Enterprises have officially opened the Lineage Cool Port Oakland, the world's latest next-generation cold storage and logistics facility. Set on 25 acres at the Port of Oakland's waterfront, Cool Port will serve as the newest hub for temperature-controlled cargo transitioning through Northern California.
Cool Port will receive additional funding and support from the Port of Oakland and the State of California. The combination brings together cold-chain logistics expertise and steadfast commitment to innovation and community growth.
"Cool Port is a game-changer for global trade and the local economy," says Jason Dreisbach, president of Dreisbach. "We'll more efficiently connect U.S. producers to Asian markets and in the process create hundreds of jobs in our own backyard. The incredible impact of Cool Port on our organizations, the Port of Oakland and the Bay Area at large cannot be understated."
The facility will set a new standard in efficiency, food safety and speed in the temperature-controlled and transportation industry.
The 280,000-square-foot depot with 90 truck dock doors will have the ability to send up to 1,000,000 tons of perishable product through the Port of Oakland each year. Cool Port's proximity to the marine terminal entrance will expedite the transition process between ship and warehouse, reducing transportation costs and energy expenditure.
Additionally, Cool Port will reduce truck usage, resulting in lower diesel emissions. A maximum of 36 railcars can go straight to shipper containers each day to be loaded, eliminating the need to load cargo onto trucks for transfer between ships and rail.
The new operation will employ roughly 200 people from Oakland and other nearby locations. The city will see eight new jobs created each time 1,000 new containers are moved through the facility.
"Partnering with these world-class organizations on Cool Port has significantly enhanced the breadth of services and capabilities the Port of Oakland is able to provide customers looking to import and export temperature-controlled goods through our terminal," says Chris Lytle, executive director for the port of Oakland. "The jobs created, the cargo added and the sustainable operation Lineage and Dreisbach support mean we all benefit from Cool Port."
Companies in this article