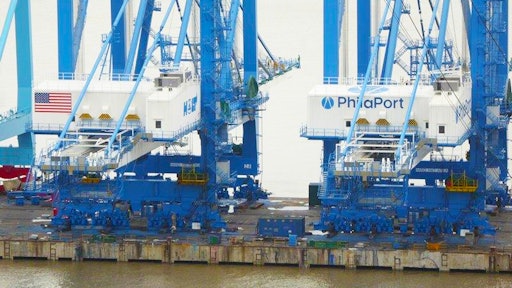 The growth in perishable food imports and exports across the United States is good news for seaports of all sizes. Major box ports (see Food Logistics' May 2018 cover story) are benefiting from the ongoing migration of refrigerated food shipments from specialized carriers to containerized carriers, among other trends, and are investing in infrastructure to handle expanding volumes.
Meanwhile, other ports that specifically target perishable foods as part of their cargo mix (bulk/breakbulk and containerized) are promoting customer service along with knowledgeable and expedited handling to attract more refrigerated ("reefer") shipments. These mostly small- to medium-sized ports have embarked on sizeable infrastructure investments and service expansions to keep pace with demands from reefer beneficial cargo owners (BCO). Following are highlights of some of those developments:
PhilaPort is in the midst of a significant $300 million capital improvement plan aimed at keeping the port competitive with others in the Northeast U.S. region, such as New York-New Jersey, Baltimore and Wilmington (DE), and capitalizing on the growth potential associated with the widened Panama Canal and increasing perishable trade volumes.
Earlier this year, the port completed a massive channel-deepening project on the Delaware River—deepening the channel to 45 feet from the previous 40 feet—which will help PhilaPort accommodate larger vessels. In February, the port achieved a milestone when the largest container vessel ever to call the port—the MSC Schuba B—arrived with cargo comprised mostly of perishable fruit primarily from Chile and Peru.
"Being able to handle a 12,200-TEU container capacity vessel is a game changer," says Jeff Theobald, PhilaPort executive director and CEO. "This size of vessel is increasingly being used as the workhouse for shipping lines around the world. It's the reason why we are working so hard to make the necessary capital improvements, which we have planned, as quickly as possible."
That's not all. The port also took delivery of two super post-Panamax cranes at the Packer Avenue Marine Terminal in March. The new gantry cranes are capable of discharging containers from the larger vessels that are calling the port. In the first quarter of 2019, PhilaPort will acquire three more cranes—two just like the ones added in March and another one for Packer Avenue Marine Terminal.
Packer Avenue Marine Terminal is also getting upgrades, such as reinforcement of its wharves and reconstruction of a quay wall, as well as removing outdated warehouses. In addition, a 29-acre property close to the terminal, whcih the port purchased last year, will be the future site of a near-dock cold storage facility and other warehousing.
In addition to its rank as the No. 1 import port for Peruvian fruits, PhilaPort is a leading import gateway for perishables such as wine, meat, bananas and other fruits. According to the U.S. Department of Agriculture, PhilaPort moved 44 percent of the total U.S. waterborne meat imports and 26 percent of wine imports in 2015. Overall, most of the port's agricultural imports were containerized (56 percent, compared to 44 percent bulk), and there was a 50/50 split between reefer versus dry agricultural imports.
On the export side, meat and grocery items account for the biggest volume of agricultural exports at PhilaPort, mostly reefer (65 percent) and the remaining dry (35 percent).
Florida's Port Everglades handles almost half the state's reefer container volume, moving 146,608 TEU in 2017, ahead of second-place JAXPORT (93,025 TEU) and third-place PortMiami (60,335 TEU), and ranks fifth among the top 10 U.S. ports for reefer container moves. In addition, the port handled a record 1,076,893 TEUs last year, making it one of the top 10 U.S. box ports (and likewise, positioning it in the "major box port" category). Florida East Coast Railway's intermodal container transfer facility (ICTF), which started operations at the port in 2015, is credited with boosting Port Everglades' container volumes in recent years.
Central and South America, along with the Caribbean, are the primary sources for fresh produce coming into Port Everglades.
In May, Crowley Maritime launched a direct, weekly service from Puerto Plato in the Dominican Republic to Port Everglades. The two-day northbound sailing departs on Mondays and arrives at Port Everglades on Wednesday morning.
The new service "offers shippers a much needed, fast and direct service from Puerto Plata to Port Everglades," says Nelly Yunta, vice president of Crowley's Dominican Republic liner service.
Customers can ship a variety of cargo in all types of equipment, including 20- and 40-foot reefer and dry containers.
Meanwhile, Port Everglades' longtime partner Sol Shipping Services signed a five-year lease with the port in December. Sol, an importer of cantaloupe, honeydew and watermelon, began using the port in 1993.
"We are delighted to renew our partnership with Port Everglades," says Enda Walsh, director of Sol and president of Fyffes North America.
Under the new lease terms, Sol will move to a 7-acre site this month. The shipping line will move at least 16,000 containers through Port Everglades annually.
A milestone was reached last November, when the first shipment of Colombian Haas avocados into the United States arrived at Port Everglades, following years of work by the South American country to gain access to the U.S. market.
"We have been actively expanding our perishables market for years, and this is a huge welcome for produce from Colombia," notes Steven Cernak, CEO and port director of Port Everglades. "Port Everglades is the leading perishables seaport in Florida, with easy access to 19 million consumers in the region."
The port's ocean-to-air perishables program, introduced last year, is designed to give perishable shippers more transportation options and get fresh produce to new markets quicker. Customized Brokers, the import and customs brokerage arm of Crowley, along with Miami International Airport (MIA), coordinate ocean shipments of produce from Latin America to Port Everglades, then on to cargo planes at MIA for flights to their final destinations in Europe and Asia.
In January, the Port of San Diego launched at $24 million project to modernize its 10th Avenue Marine Terminal, which involves the removal of two obsolete warehouses and the creation of more space to accommodate project cargo. Plans also call for three distinct cargo nodes within the existing footprint of the terminal, focusing on project and breakbulk cargo, dry bulk cargo and reefer containers.
Phase I of the modernization project will take approximately 13 months to complete, and cargo flows are expected to expand from 1 million metric tons in 2014 to 4.7 million tons by 2035.
The port currently offers 300,000-square-feet of on-dock cold storage (the most on the U.S. West Coast), and is rail-served by BNSF. It also offers 700-plus reefer plugs, a 42-foot draft and quick access to four major interstate highways.
Dole moves 15,000 tons of cargo weekly through the Port of San Diego, mostly bananas, but port executives are looking to expand the port's business portfolio to include more produce and perishable food growers and distributors who are looking for a higher level of customer service than what they might get at bigger ports.