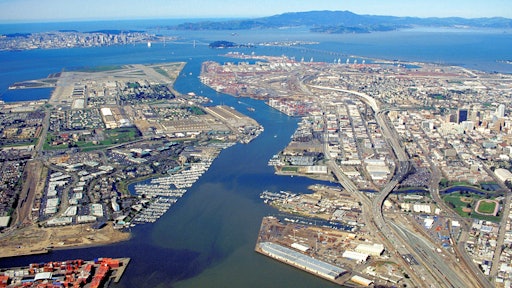 According to the Wall Street Journal, shipments from the United States' West Coast ports to Asia are picking up, showing signs that companies are stepping up orders ahead of the anticipated trade restrictions.
Loaded container exports from neighboring ports of Los Angeles and Long Beach jumped 12 percent in April from last year to 306,503 TEUs, making April the biggest month for exports since March 2017.
Threats of tariffs and other strict restrictions have been going back and forth between the U.S. and China for the last two months, causing concern and uncertainty for both Chinese buyers and American exporters. However, representatives from both countries have been discussing potential solutions to avert a full trade war.
The Wall Street Journal reports that trade gateways to Asia have been growing at a rapid pace. Volume from California ports have increased 6.6 percent from January to February and another 6.1 percent in March before reaching April's high.
Port of Oakland's exports for 0.5 percent from a year ago, but strong exports of agricultural goods have offset a decline in the export of scrap materials.
On the other side, China's exports rose 13 percent in April as imports surged 21.5 percent, according to the Wall Street Journal.
The National Retail Federation and Hackett Associates expect imports into the U.S. will continue to rise until negotiations reach a conclusion.