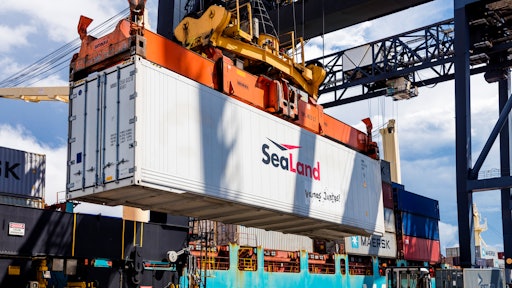 SeaLand, the Intra-Americas regional ocean carrier of the Maersk Transport & Logistics division, introduced Remote Container Management (RCM) at the Produce Marketing Association (PMA) Fresh Summit in New Orleans on Oct. 20.
RCM allows shippers to monitor the internal condition of reefer containers 24/7 for complete visibility to cargo in transit, on land or at sea. RCM is an exciting new option for shippers offering monitoring of temperature, humidity, oxygen levels, location and ventilation of reefer shipments wherever they are in the world. End-to-end monitoring allows SeaLand to fix the internal condition in a reefer container immediately preventing produce from spoiling.
In addition to RCM, SeaLand offers an array of fresh technologies to provide shippers with a seamless shipping experience—from online solutions for booking, shipping instructions, track and trace, financial processing and more to sophisticated refrigerated (reefer) equipment technology to serve the specific and sensitive needs of produce cold chains. Through innovative technology SeaLand works to maximize the market value and shelf life of perishable shipments.
Craig Mygatt, CEO of SeaLand, says, "Moving fresh produce to and from markets in the Americas is an exciting and important business. Consumers today want access to fresh produce all year long. We're making that possible whether it's bananas and pineapples from Costa Rica and Panama to the U.S. or tropical and exotic fruits such as mangoes. We have a vast inventory of advanced, state-of-the-art reefer containers that are available for reliable produce delivery throughout the Americas and the technological solutions that improve business productivity and bottom-line results."