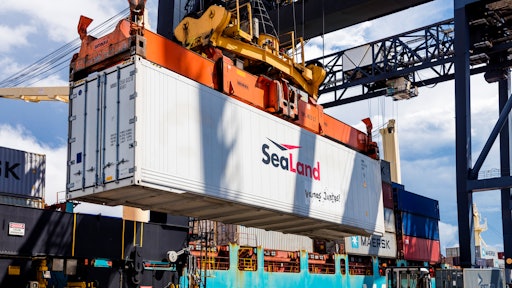 Last September, SeaLand, the intra-Americas regional ocean carrier of the Maersk Group, launched its West Coast Central America (WCCA) service, targeting fresh fruit and other agricultural goods traded between Southern California, Mexico, Central America and the West Coast of South America.
The Port of Hueneme, located 60 miles northwest of the L.A.-Long Beach port complex, is currently the sole U.S. port of call in the WCCA rotation. Ranked as one of the top U.S. ports for bananas, the port also maintains a workforce with deep experience handling perishable goods, close proximity to major population centers, ample cold storage capacity and quick turnaround to assure optimum shelf life for perishable goods.
"SeaLand brings a valuable weekly service to the port, supporting those regional customers that grow and handle fresh fruit, vegetables, dried fruits, nuts, cotton and hay. Additionally, the service strengthens the port's connections with Central and South America, our long-term target trade lanes, which promise to enhance our longstanding relationships with fresh fruit importers and exporters," says Kristin Decas, CEO and port director at the Port of Hueneme.
Ariel Frias, SeaLand's head of marketing, says shipper response to the WCCA service already has exceeded expectations. Perishable shippers are always looking for ways to get cargo closer to the consumer and do it as fast as possible, and SeaLand's newest service provides a critical third entry point into the U.S. West Coast, complementing the carrier's existing services that serve seaports in the U.S. East and Gulf coasts, he says
"We're giving shippers a constellation of service options," notes Frias, referring to the multiple U.S. port options now served by SeaLand. Shippers using the WCCA service not only enjoy expedited service in and out of Southern California, but quick access to Northern California and even Utah, Nevada, Portland (Oregon) and Idaho, too.
Nurturing the Carrier-Port Relationship
A key component of SeaLand's success is the relationship that exists with the Port of Hueneme. Known as the "Port the Farmers Built," it is a niche port that specializes in automobiles and a variety of agricultural goods, including bananas, pineapples, avocados, frozen vegetables, grapes, apples and pears.
Frias says SeaLand and the Port of Hueneme are similar in that they are both niche players that cater to perishable shippers. This shared focus and common goals "definitely makes the relationship easier," remarks Frias. Shippers want their product to arrive fast. They want speedy processing, inspection and dispatch so the shelf life isn't compromised and there are no breaks in the cold chain, and that's what the partnership between SeaLand and the Port of Hueneme can deliver, he says.
The cold storage capacity in and around the port is another attractive consideration for shippers. There is 256,000-sqaure-feet of on-dock refrigerated warehouse and another one million-plus square feet of temperature-controlled facilities nearby, which also provide transloading, repacking and fumigation services.
The Port of Hueneme handles both breakbulk and containerized fresh produce, although SeaLand's service is 100 percent containerized.
Frias emphasizes that building strong relationships with all the ports that SeaLand calls is critical.
Recently, SeaLand hosted a customer event in Costa Rica to promote its North Atlantic Express (NAE) service, which includes the Port of Philadelphia as a port of call. Representatives from the port were on hand to talk face-to-face with shippers and discuss the advantages of shipping through the Port of Philadelphia.
"It was beneficial to have the port representatives there to answer questions and also explain how the close working relationship with (SeaLand) is good for the shipper," explains Frias.
"Ultimately, it's comes down to where the customer wants their cargo to be moved to, and we want to give customers more choices. That's what makes this new WCCA service with the Port of Hueneme a winning proposition," says Frias. "The response from customers has been very favorable, and because SeaLand and our port partners think alike and understand how to handle specific commodities, it makes the whole relationship easier to pitch to the market."
While SeaLand focuses on the intra-Americas markets, Frias says Maersk Group's pending acquisition of Hamburg Sud, which is expected to be complete by the end of the year, will add an expanded and more efficient network, more port calls, and more opportunities to support global reefer shippers.
"There is a lot of excitement in the reefer community right now about some of the things that we're creating, bringing value to shippers, ports and ourselves as a shipping line," says Frias.