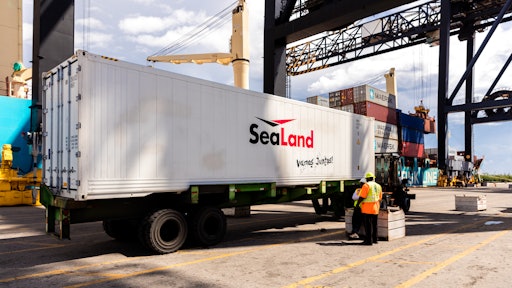 Customer service. Everyone talks about it, but what is it? It's really all the things that make an efficient supply chain—speed, transparency, safety, reliability. Buzz words? Of course, but they're true.
Shipping companies are striving to attain all of those to benefit their customers by adding routes, improving technology, or both. Sealand, for example, in April launched Gulf Ocean Express (GOEX), a new direct, all-water service that connects the U.S. Gulf (Houston and New Orleans) with Central America, Panama and Colombia.
Sealand, a division of Maersk, added the U.S. Gulf capacity to address the needs of customers for increased volumes by connecting to major U.S. markets and Canada via 14,500 miles of waterways, six Class I railroads and the interstate highway system.
The northbound route for GOEX begins in Cartagena, Colombia, then calls Manzanillo, Panama; Puerto Cortes, Honduras; Santo Tomas de Castilla, Guatemala; Houston and New Orleans. The southbound voyage calls the same ports, beginning in Houston and ending in Manzanillo.
"We knew we didn't have a strong presence in the gulf, so we started planning through last year," says Alfredo DiPalma, commercial manager for Sealand Central America. "The three-vessel weekly rotation includes 2,500 TEU nominal capacity per vessel, each with 600 reefer plugs."
The new routes are important because of the large amount of fresh food moving back and forth between the regions. The cargo includes high-quality beef from Nicaragua, bananas and plantains all moving north, while non-frozen fruits like grapes and apples head south from the gulf. Although the melon season is coming to an end, this service makes its transport more efficient.
Taking advantage of its Maersk affiliation, Sealand uses its parent's Remote Container Management (RCM) tracking and monitoring system. With RCM, customers have complete access to the reefer container's current location, temperature and atmospheric conditions as well as the power status, at all times and locations.
"We have a platform that customers can interface with," DiPalma says. "It's quicker, confidential access to the service—routes, maps, transit times. It's immediate. And, we have dedicated reefer people in each country with local expertise. They're dedicated to the customers.
"The technology is based on GPS, but with more data," he adds. "All the refrigerated equipment keeps track of temperature and variations. It gives our customers control and flexibility. Our equipment transmits that data. It's a game-changer we launched last year. And, we have a control system on the vessel. It carries spare parts and mechanics, so now the customer gets access for their peace of mind and we can track (cargo) better and act on these variations."
High-tech Containers
TOTE Maritime Puerto Rico last year purchased 350 new, high-tech smart refrigerated containers to service its Puerto Rico trade route. The containers use machine-to-machine (M2M) telematics technology to remotely monitor and control conditions of refrigerated perishables during transport.
The Jacksonville, Florida-based company has deployed Orbcomm's StarGuard system to monitor and control its refrigerated containers, or reefers, from point of origin to destination since 2011, providing customers with real-time, end-to-end visibility of the cold chain. With the new purchases, TOTE Maritime Puerto Rico's entire reefer fleet is now equipped with the StarGuard system.
The fleet also now uses Orbcomm's new GMS-based VesselConnect M2M application, which securely provides critical real-time data from reefers. The new technology allows TOTE Maritime Puerto Rico to monitor set points, conduct pre-trip inspections on-board and expedite cargo distribution on land. VesselConnect also provides the precise monitoring and recordkeeping needed for compliance with the new requirements under the FDA's Food Safety Modernization Act.
TOTE Maritime Puerto Rico also updated its web portal in March, allowing easier management of shipments for its Alaska and Puerto Rico customers. Features include improved navigation to reduce time spent on the portal, while streamlining access to cargo data and information, as well as a bookmarking feature to allow monitoring of priority cargo. The company is also preparing to roll out a mobile application that has the same look and feel of the online portal and includes features like watch list capabilities, equipment status information and a voyage calendar.
In the Warehouse
Once a reefer shipment reaches port, it needs to be handled properly and timely. In April, Crowley Logistics opened its newly expanded Medley warehouse in Miami to enhance supply chain services in the South Florida market. Now at 180,000-square-feet, the warehouse has double the previous number of receiving doors, and features more than 5,000 pallet rack positions and 95 container parking spots, as well as single-direction truck flow to prevent cross traffic and increase safety.
A section of the warehouse has also been activated as a Foreign Trade Zone (FTZ). This allows the facility to receive, store and process cargo without it being subject to formal U.S. Customs entry procedures and payment of duties until the cargo is made available for domestic use and consumption. (Customized Brokers, Crowley's in-house customs brokerage subsidiary, is available to help customers with customs clearance). Importers are not subject to duties, quota charges, state inventory tax, ad valorem or personal property taxes until the product is withdrawn from the FTZ. Additionally, cargo can now remain in Crowley's FTZ facility for an unlimited amount of time, which is a significant change from the previous 14-day deadline associated with bonded cargo.
During the expansion and remodel, all pallet racking was upgraded to the newest available from Rack Avengers. The system uses high-grade structural steel to reinforce the base of each rack, allowing it to withstand a forklift impact of up to 14,000 pounds at 14 mph, preventing what could be a catastrophic racking collapse.
In addition, to meet the demands of the rapidly expanding e-commerce market, a devoted receiving area has been constructed to ensure same day, expedited processing of approximately 1,000 small packages received from online shopping. The IT infrastructure, lighting and other safety points across the facility have also been upgraded to keep warehouse staff and visitors safe in the fast-moving work environment.
Barry Hochfelder is a freelance journalist who has covered a variety of industries in his career, including supply chain. He also served as the former editor of Supply and Demand Chain Executive. Hochfelder is based in Arlington Heights, Illinois.
Companies in this article