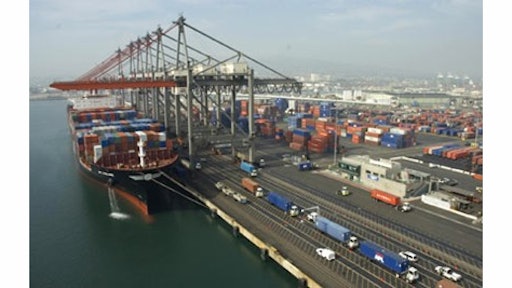 U.S. Secretary of Commerce Penny Pritzker was in California on Friday, where she signed an agreement with the University of Southern California's Marshall Center for Global Supply Chain Management to partner with the school to explore ways the Port of Los Angeles and Port of Long Beach can adopt a standardized information system that could allow various players from retailers to truckers to big shipping companies to share data.
At a time when consumers can easily track their orders on Amazon online or keep watch of their home remotely, the digital information flowing through the local seaports about billions of dollars worth of goods is outdated and too slow, according to The Long Beach Press Telegram.
"We need to continue to up our game," said Pritzker. "We are not at the kind of world-class level that we need to be at."
The idea is to be able to track a shirt imported from China across the supply chain from nearly the time it's ordered and be able to tell what kind of transit problems it might be encountering. That could go a long way toward making delivery of products speedier and cheaper, as consumers have come to expect.
"Never have we had a port community system with digitized technology," said Gene Seroka, executive director of the Port of Los Angeles. "This is really ground-breaking."
Now it poses headaches at the ports where nearly every terminal operator works off of a different data system. In Long Beach and Los Angeles, there are 14 terminals and 11 different operating systems, complicating matters for truckers and others who need to access information about their cargo.
"The idea is to digitize the transmission (of information) so supply chain partners can plan and make decisions in a more reliable, safe manner," said Noel Hacegaba, chief operation officer at the Port of Long Beach.
To read more, click here.