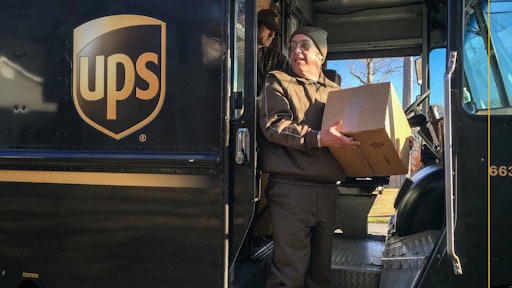 Effective December 26, 2016, the UPS U.S. ground service daily rate will increase by an average net 4.9 percent. Daily rates for UPS U.S. air and international services will increase an average net 4.9 percent. UPS Air Freight rates within and between the U.S., Canada and Puerto Rico, will increase an average net 4.9 percent, also effective December 26, 2016.
Further, UPS Freight announced an average net 4.9 percent general rate increase effective September 19, 2016.
Rate increases will support ongoing expansion and capabilities enhancements.
For additional information and to review the announced rates, visit www.ups.com/rates. Information about other 2017 UPS rate changes and additional charges will be made available on the company website on November 18, 2016.

Editor's Insight: With e-commerce growing rapidly, the continuous increases in parcel delivery rates make the economics of e-commerce fulfillment even more challenging for retailers and manufacturers that sell direct to customers. These escalating rates enhance the demand for transportation software systems that track carrier rates and calculate delivery options.
Freight auditing services have the expertise to match delivery variables against a company's specific shipping practices.
National Traffic Service, a freight auditing service provider, notes that parcel shipping rates are based on service levels, zones, fuel surcharge tables, accessorial charges and numerous other factors. Besides the number of variables, definitions of these charges are not always the same between carriers like FedEx and UPS.
E-commerce is emerging as a big driver for professional logistics services. The September Food Logistics explores the challenges that companies are facing in responding to omnichannel fulfillment. 9-6-16 By Elliot Maras