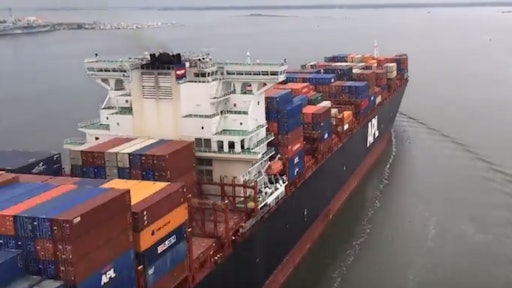 The South Carolina Ports Authority welcomed the APL Yangshan, the largest container ship ever to call the Port of Charleston.
"The deployment of New Panamax vessels to the East Coast trade marks a new era," said Jim Newsome, SCPA president and CEO. "Today 16 of Charleston's 26 weekly calls are handled by vessels 5,000 TEUs or larger, and we expect to handle our first 14,000 TEU vessel call later this year. As the deepest harbor in the Southeast, Charleston is well-prepared to provide the depth as well as the capacity and infrastructure necessary for efficiently handling big ships."
The Yangshan, which measures 1,140 feet long and 148 feet wide, can transport up to 10,700 twenty-foot equivalent units (TEU). It is deployed on the China East Coast "CEC" weekly vessel service via the Suez Canal.
The Yangshan's milestone visit comes on the heels of the arrival of two new cranes last month, boosting big-ship handling capabilities at SCPA's Wando Welch Terminal. The cranes, which offer 155 feet of lift height from the dock, are expected to be operational by December 2016. By December of next year, two additional cranes of this height will be delivered to the Wando Terminal in conjunction with the completion of a $44 million project to modernize and strengthen the terminal wharf.
The Yangshan departed Charleston for a call in Norfolk before it transits to Jeddah, Saudi Arabia. Charleston will receive the next vessel of this size, the APL Barcelona, in early September.