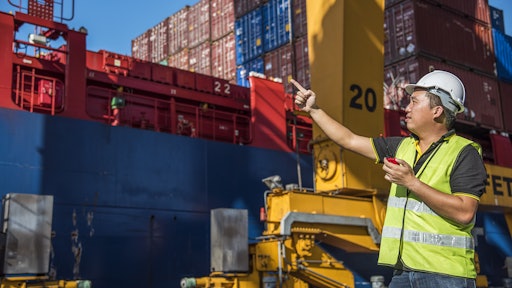 Food and beverage shippers involved in export trade are being required to provide verified container weight information under an International Maritime Organization (IMO) rule that took effect July 1, according to the August Food Logistics. The full impact of the rule, known as the International Convention for the Safety of Life at Sea (SOLAS), was uncertain at the time of this report, as the U.S. maritime industry was working on a system to meet the requirements.
IMO amended its regulations to require that a container's gross weight be verified before being loading onto a ship. The IMO previously required shippers to provide gross cargo mass on containers. IMO enacted the revision to address concerns about the safety of containers with inaccurate declared weights.
The amendment places the responsibility for providing a verified container weight on the shipper. Shippers are not only responsible for reporting the normal gross cargo weight, but also for certifying the verified gross mass (VGM) of each container. This includes the container weight provided by a carrier before the cargo being loaded on the ship.
The rule allows two methods for establishing a verified container weight:
Method 1: Once a container has been packed and sealed (using calibrated and certified equipment), the shipper has to weigh the container or arrange for a third party to weigh it.
Method 2: The shipper, or a third party, can weigh the package and cargo, including the mass of pallets and packing material to be packed in the container, and add the tare mass of the container to the sum of the container's contents. The tare mass must be visible on the exterior of the container. Estimation of weights is not permitted. The shipper cannot rely on the weight provided by another party unless the weight is clearly and permanently marked on the container.
Shippers choosing the second method must comply with requirements established by countries where the container is packed and sealed. The IMO considers Method 2 as inappropriate for bulk cargo such as unbagged grain that do not lend themselves to individual weighing.
To read the entire article, click here.