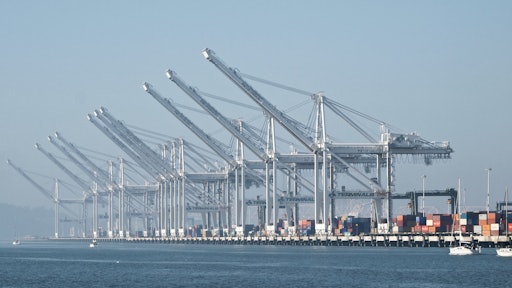 Operations have resumed at the Port of Oakland after a dispute over working hours at the Port of Oakland led to an hours-long shutdown at the largest of its five terminals.
Twenty-two workers reportedly objected to management's request that they start at 6:45 AM instead of the usual 7:00 AM; when they did not start work at the earlier time, they were dismissed, according to Maritime Executive. 44 of their colleagues slowed or stopped work in protest.
"The company refused to honor the start time in our contract," said Craig Merrilees, spokesman for the International Longshore and Warehouse Union (ILWU).
An arbitrator swiftly ruled that both the firing and the labor action that followed were improper, and work was set to resume later in the day. "The [dismissed] workers were made whole" by the arbitrator's decision, Merrilees said, adding that they would be paid for Monday's hours and could return to work Tuesday.
A Port of Oakland spokesman told local NPR affiliate KQED that operations had returned to normal as of the morning of March 29.
For more, click here.