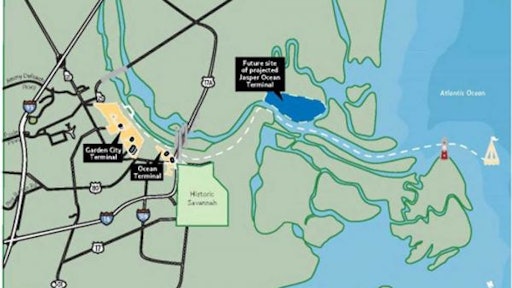 The Georgia and South Carolina ports authorities signed a joint venture agreement that defines the permitting and planning process for the development of the proposed Jasper Ocean Terminal near Beaufort, S.C., according to The Charleston Regional Business Journal in Charleston, S.C.
The project has been in the works for more than a decade. The ports authorities have said an additional deep-water container port is needed as demand grows at Savannah and Charleston ports over the next decade.
The South Carolina State Ports Authority and the Georgia Ports Authority will jointly own and operate the terminal, which will be located in Jasper County near the entrance of the Savannah Harbor.
The updated agreement outlines the development of terminal design and infrastructure, plans for financing and execution of the operational decisions during the permitting process.
Earlier this year, the Jasper Ocean Terminal board of directors approved a work plan for fiscal year 2016 which includes geotechnical studies and conceptual work on terminal design. Moffatt & Nichol is the project manager.
The board hopes to submit a permit application during fiscal 2016 to the U.S. Army Corps of Engineers for the new terminal and channel modification study.
"I am greatly encouraged with the signing of this agreement as the next step of the continuing cooperation and progress between Georgia and South Carolina toward the ultimate goal of building a Jasper Ocean Terminal," terminal board chairman David Posek said in a news release. "It establishes the framework between our two states to work together over the next decade."
South Carolina Gov. Nikki Haley and Georgia Gov. Nathan Deal both released statements in support of the states' collaboration on the terminal plans.
To read more, click HERE.