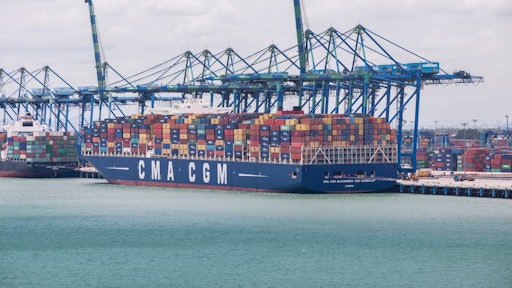 French shipping line CMA CGM, sailing against trends toward larger ships and growing alliances, will expand services to the U.S. East Coast starting this week by adding stops using smaller ships at four Eastern Seaboard ports and adding calls at Baltimore to a separate, smaller shipping run, according to The Wall Street Journal.
The new services out of Northern Europe are part of the company's effort to operate its own East Coast network, rather than buying space on ships belonging to its competitors. "We decided to become the captain of our own fate," said Olivier Nivoix, vice president of North American Lines for CMA CGM, the world's third-largest container ship operator by capacity.
What CMA CGM calls its "New Vespucci" line will use 15 ships, each with capacity for 4,500 20-foot equivalent units, or TEUs, a common measure of the number of shipping containers a vessel can carry. The service will stop at New York, Norfolk, Va., Charleston, S.C., and Savannah, Ga.
The largest ships that can dock at East Coast ports carry about 10,000 TEUs, although many U.S. ports are preparing to receive 13,000-TEU ships once the expansion of the Panama Canal is completed next year. West Coast ports can now receive ships as large as 14,000 TEUs.
To read more, click HERE.