Marina Mayer
Over winter break, my husband and I took our two kids on a staycation in the city of Chicago. We unplugged from the world to enjoy holiday lights, different restaurants and logging steps at museums.
It was relaxing yet exhausting, as "vacations" can be.
First up was the Shedd Aquarium, which through its different colors and species, provided a calming ambience that made me wonder why I don't transform my home office into an aquarium. Even with the ever-present Coronavirus disease (COVID-19) pandemic putting forth restrictions such as time limits in the museum, certain exhibits closed until further notice and mask and vaccination card mandates, the Shedd still promised – and delivered – on nature in aquatic form.
But, what really peaked my interest was our time at the Museum of Science and Industry, specifically the transportation section.
We sat in an old United airplane; we boarded an old train that used coal to run; we walked down old "Main Street" to see what theaters, pharmacies and even the post office looked like "back then" as my kids call it. We walked around an architectural model mimicking the city of Chicago, then and now, complete with trains and cars.
And, then I came across this ship.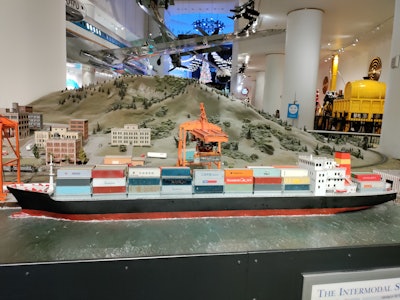 Situated above this ship is an orange crane that moved up and down to pick up and put down the container.
Now I know, you're all like, so what?! Well, both of my kids not only noticed this, but also explained how this is the kind of stuff I write about.
We went on to discuss how containers filled with toys, shoes, electronics and more move from one country to another via these large ships. (And, in today's COVID era, they're also used as pop-up COVID testing sites, if you can believe it).
I explained how sometimes these ships get stuck at sea (and, that's why their snow boots didn't arrive until after our snowstorm hit); sometimes workers walk off the job and product sits idle; sometimes food spoils and becomes waste; sometimes bad people try to steal items off the container. This is why we, as consumers, have to plan ahead when ordering online.
One simple display of a ship was all it took to explain today's supply chain crisis. One architectural design meant to showcase the movement of goods turned into a discussion about the current state of the supply chain.
Whatever it takes to explain the logistics behind supply chains, one thing is clear, it's going to take more than a discussion with your kids to understand the challenges endured by today's supply chains. But, keep the discussions going; who knows, maybe a simple display of a ship does have the answer to combatting the supply chain crisis.