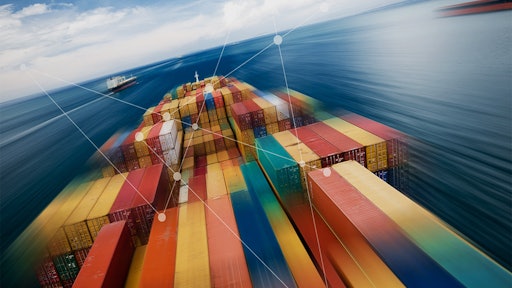 SeaCube Containers
When the topic of Smart Ports comes up, most consumers don't think of Domino's pizza delivery. However, the concept, technology and the digitalization applications are almost the same. With over 65% of all transaction being conducted digitally, Domino's is now said to be one of the leading e-commerce powerhouses in the technology space.
With a focus on enhanced operational efficiencies ranging from waste elimination to on-time delivery, Domino's has developed one of the most efficient processes in the food industry. Today, Domino's is not only a fast food pizza chain, but is also recognized as a leading digital, e-commerce and logistics company. Utilizing advanced logistics and technology solutions have been instrumental in Domino's ability to outperform competitors and consistently gain market share. After all, who wants their Ultimate Pepperoni Pizza to arrive cold?
Along those same lines, who wants a refrigerated load of frozen shrimp to arrive warm? On-time delivery with efficient predictive analytics is playing a more important role at the world's major ports. The Smart Ports concept is becoming more commonplace, as most global terminal operators are adopting forward-thinking strategies to coexist in a 100% digitized processes environment.
Digital open architecture platforms
Most ports and terminal operators have been adopting smart hub technology, whereby efficiency is being attained by real-time handoffs from delivery to ship loading. Impressively, more sophisticated ports have essentially eliminated wait time, idle containers and standby labor.
While all cargo segments benefit from the advent of cooperative data sharing and predictive analytics applications, it has had a transformative impact on the reefer sector. For instance, live reefer loads can now move directly from cold storage to a vessel terminal with essentially zero dwell time. This means lower risk of refrigerated transport failures as well as better outcomes, with more consistent temperature and atmosphere-controlled environments.
From shippers to truckers to terminal operators, the industry is utilizing digitalization to ensure chilled and frozen commodities are transported with a farm-to-table approach. This methodology has enabled increased cargo visibility, seamless event transfer, lower food waste and higher levels of service.
Smart Ports have also enhanced control of the most critical aspects of the refrigerated cargo transport process, including minimized idle time and reefer load monitoring. The emergence of the Internet of Things (IoT), including GPS, telematics devices and remote monitoring, has transformed the industry. Furthermore, the improved ability for real-time control of refrigerated container environments is yielding significant positive results in reliability and predictability of successful delivery rates. This realization has been attributable to the terminals, vessel operators and logistics service providers receiving early-warning diagnostics and data-sharing control to make changes to temperature, humidity, air exchange or other settings remotely, thereby, mitigating the risk of lost refrigerated loads.
More capacity and more efficiency for on-time delivery
When it comes to digitalization, ports and terminals have been lagging behind most industries. However, recent initiatives and technology cooperatives have been transforming port operations, adopting more integrated processes than ever before.
For example, enhanced reservation systems have been an important advancement in terms of driving balanced cargo loads. What's more, the technology has enabled improved "under the hook" vessel loading, which removes handoffs, reducing labor costs and improving capacity throughput at most ports.
Collaboration among logistics partners contributing to open data networks has also produced numerous benefits. The efficiency gains have been exponential over the past 3-4 years, with optimized vessel load planning, gate receiving efficiency, sequenced truck moves and final lift loading.
Although blockchain was a common term in the foray of terminal and logistics digitalization strategy, there have been various associations, technology partner cooperatives and industry collaborative groups that have all made significant contributions to the advancement of digitalization and data sharing. The innovation surrounding prescriptive and predictive early planning data allows for enhanced pre-planning at the port hubs, resulting in lowered transaction costs and improved delivery vessel loading cycles.
Recent planning methodologies offer early visibility, which enables more accurate origination to destination cargo mapping. Similar to e-commerce retailer's fulfillment approach to provide consumer delivery visibility and reliability, Smart Ports play a pivotal role in the next-day delivery chain with data moving well ahead of the cargo. Having been well received by the refrigerated commodity shipping community, this technology provides real advantages given the perishable nature of the product.
Driving down cost while increasing terminal throughput
Digital nodes are driving the efficiency of Smart Ports by utilizing electronic switching to control the flow of cargo while eliminating dwell times. Eventually, Smart Ports will provide reverse planning notifications to trigger shipper loading, trucking move execution terminal receiving and eventually vessel loading. Synchronization through digital controls will be optimized to the point that handoffs will take place in a matter of seconds. This will enable loading directly from truck to vessel, eliminating the need to transfer cargo from truck to yard to vessel. This efficiency will also allow terminals and ports to increase volume throughput without any increase in landscape footprints. The translation of this efficiency will drive lower cost, higher move count per shift and less cargo handling.
For special commodities such as higher value cold chain products, this will improve total transit and essentially eradicate any concerns for cargo disposition changes from the delivery to vessel load. In addition, these efficiencies will also allow ports to leverage off-peak hours to increase capacity thereby, maximizing vessel operation loading. As a result, this will compress vessel port times and reduce transit times.
Is cargo teleporting next?
Imagine shipping your goods in a matter seconds without any dependency on cargo ships? This would mean instant transportation with instantaneous delivery. This sounds pretty far-fetched or something from Star Wars, but maybe this idea is closer to reality than we think.
While it may not sound realistic, Smart Ports represent a radical transformative change for the supply chain that is already positively impacting the industry. With reduced cycle times, highly visible and predictable cargo movements, as well as reliable data that works through a trusted network environment, these enhanced capabilities are providing unmatched process efficiencies never before seen in the industry.
Who knows, maybe the next advancement to follow could be moving from the physical logistics world to an atomic and subatomic logistics one.