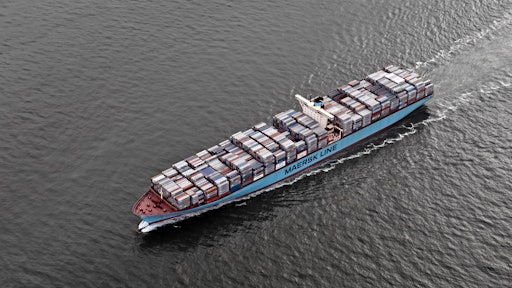 Maersk
While ocean carriers handle 90% of the world's trade, the sector itself lags in the adoption of technology. However, changes in shipping are currently underway, allowing companies to engage in a competitive race to incorporate artificial intelligence (AI), Internet of Things (IoT) and other emerging technologies to improve operations, visibility and decision-making.
AI-based software helps ocean carriers process massive amounts of information at high speeds. Results range from increased fuel efficiency to optimized transit times, while access to more detailed and actionable information is becoming more beneficial for cargo owners.
That's because AI can be deployed in several areas of maritime navigation, such as managing vessels, port traffic and vessel maintenance. In addition, the technology is being developed for the use in autonomous vessel operations.
But, reducing vessel emissions and improving fuel efficiency remains an ongoing goal.
For example, in June 2019, Fujitsu and Kongsberg unveiled a new tool called Vessel Fuel Optimization (VFO), which takes information from a vessel's Vessel Data Recorder and uses AI to learn the ship captain's strategy and the vessel's performance, then combines them with meteorological and hydrographic forecasts to provide the best routing for maximum fuel efficiency, safety and profitability.
The solution is particularly timely following the Jan. 1 implementation of the International Maritime Organization's (IMO) new restrictions on sulfur emissions from bunker fuel.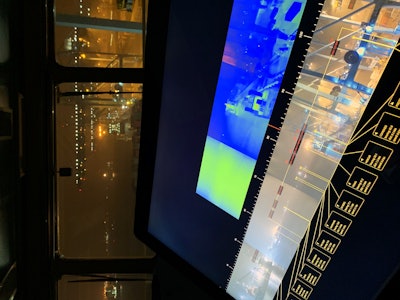 At the same time, the sector is grappling with the risk associated with cybersecurity.
In June 2017, for instance, Maersk, Denmark, was hit by the NotPetya cyberattack, which wiped out its entire IT network within seconds. Recovery time took 10 days, costing the company between $250-300 million.
An array of emerging technologies targeting ocean carriers are not only coming from tech companies, but also from the shipping companies themselves.
Maersk Line launched its Remote Container Management (RCM) platform in 2015 to provide beneficial cargo owners with real-time GPS tracking of their containers and other features, such as temperature, CO2 and humidity monitoring. The latest enhancement to RCM, a smartphone app named Captain Peter, is a virtual assistant that alerts shippers when conditions inside a container go outside of spec, or if the container experiences some other breach (ie., is dropped, the door is opened, etc.).
OceanPro, Maersk's technology accelerator program targeting startups in India, supports developments in AI/machine learning, blockchain, image analytics, IoT, fintech and augmented reality/virtual reality (AR/VR).
"There are several startup accelerators in Bangalore, but OceanPro is a pioneer in start-up accelerators in the shipping and logistics domain," says Sriram Narayanasami, global commercial process head at Maersk. "In India, we have 29,000 customers; every one in five dry containers go on a Maersk vessel and every one in four refrigerated container goes on a Maersk vessel. With such a large customer base, we are able to test some of the solutions with our customers."
Meanwhile, CMA CGM, France, partnered with Infosys, India, and Shone, San Francisco, to develop AI systems on board container ships. Shone's technology protects the seafarers, as well as the vessel.
Autonomous ocean carriers are also becoming a reality, but seafarers will still be onboard and at risk. Shone's AI system provides an anti-collision alert system, using data from the ship's existing sensors—more specifically, radar and cameras—as well as navigation assistance for piloting and safety decisions.
Boston-based Sea Machines Robotics launched proprietary technology that connects to the vessel's propulsion system to create autonomous and/or remote-controlled capabilities.
Recently, the U.S. Coast Guard and American Bureau of Shipping approved use of the company's SM200 wireless helm on a class of U.S. flag tugboats. Remote-controlled vessels give the primary operator flexibility to command from locations other than the vessel's wheelhouse, thereby maximizing visibility and providing safer transits.
Maersk uses Sea Machines Robotics' Enhanced Situational Awareness for its Winter Palace ice-class containerships. Sea Machines Robotics also integrated encrypted software to protect hardware and software from cyber vulnerabilities.
"Sea Machines' AI-powered situational awareness and advanced perception system is currently being trialed aboard a Maersk container ship in Denmark. Expected for release to commercial markets for ships and other vessels later this year, this intelligent system merges computer vision, LiDAR, thermal sensors, radar, AIS, GPS and ECDIS charts on a real-time, intuitive display to provide unprecedented situational awareness and visibility that is far superior to the human eye across all conditions," according to Michael Johnson, founder and CEO of Sea Machines Robotics. "As we approach commercial release of this product, it's clear that Sea Machines lowers at-sea risk, reduces manual effort and improves ships' predictability and performance."
CargoSmart, Hong Kong, uses a combination of AI, IoT and blockchain solutions to enhance transparency for ocean carrier shipments. The company uses blockchain to make documents more traceable by linking them together for accurate tracking, followed by a tamper-proof audit trail and then context-based documentation for validation and collaboration, which triggers alerts when data inconsistencies or deadlines occur.
In addition, CargoSmart's ForeSea solution provides a holistic view of the shipping process, allowing the customer access to a vessel's departure, location and ETD. Predictive insight allows the customer to analyze and make better decisions about their shipments.
Ultimately, emerging technologies are ushering in a new era for ocean shipping, including a more digital, connected and cost-effective supply chain.
Better crew management and safety, fewer human errors and mitigated risk are some of the most important benefits, along with improved cargo care and customer service.