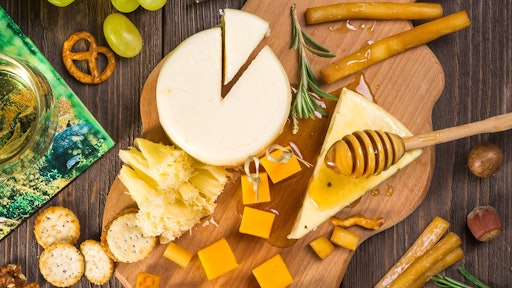 Pexels
All third-party logistics (3PL) companies are aware of the importance to maintain quality service standards regarding the delivery of cold chain items. But, when those items are considered "high-end," the pressure is even higher. Clients' expectations for these gourmet goods can been exceedingly strict, and time is of the essence. Consumers also provide more scrutiny when it comes to purchasing these products.
"The sector focuses on higher-value products and requires more extensive experience from transportation professionals," says Brad Payne, director of corporate sales with Eagle Transportation division at Nolan Transportation Group. "The professionals generally need to have a deep understanding of the products that they are transporting, in addition to logistics expertise."
As with any industry still in operation, many trends have emerged, further changing the way these companies operate. 3PLs delivering high-end products must modernize to meet their clients' needs, and now that the Coronavirus disease (COVID-19) pandemic has uprooted the supply chain, processes are even more different.
For instance, the high-end and specialty food sector has been heavily hit, as most of these goods are delivered to restaurants, whose operations are shut down or reduced to takeout only.
"The pandemic has had a very negative impact on the high-end specialty products we ship," says Bill Johansen, president of Brown Line LLC, a Lynden Incorporated company. "They frequently are destined for restaurants, and many of these restaurants have been slowed or shut down the past few months, and thus not consuming much product. Another setback from the supply side has been the inability for some processors to staff their facilities due to concerns about COVID-19."
A decrease in consumption can lead to spoilage and much of temperature-controlled product going to waste. So, those that have a stock of these items look for alternative ways of doing business. For instance, Delta Air Lines, Inc., which incorporates high-end food into its first-class and private jet operations.
"As a result of these onboard changes, Delta has been left with food that would have expired before it could be served to customers, so we are providing more than 500,000 pounds of food to hospitals, community food banks and other organizations around the world to support people in need as well as those working tirelessly on the front lines of the COVID-19 pandemic," says Madeline Moulton, warehouse improvement project lead of onboard service at Delta. "Our supply chain partners have been instrumental in adjusting inbound and outbound flows and helping to execute these donations.
"As the COVID-19 situation continues to evolve, we also recognize that our global supply chains need support for shipping essential goods to businesses and communities. Responding to Delta corporate customers who have told us they need help transporting cargo, Delta Cargo launched charter operations to provide the safe and reliable transportation of customers' goods around the globe. We've also increased cargo capacity by utilizing storage areas in the passenger cabin," Adds Moulton.
Change in consumption
As on-location dining has decreased during the pandemic, grocery and food retail has increased, creating a wider market for at-home specialty food. While this is good for those in the cold chain, this also means greater precautions must be in place to keep workers safe and food moving. Many organizations conduct on-site body temperature checks to make sure employees aren't running a fever or are experiencing COVID-19 symptoms. Most employees at warehouses and in logistics wear personal protective equipment, and those that can work from home, like most industries during the pandemic. In addition, facilities undergo rigorous cleaning processes.
3PLs also heighten their engagement with clients, including Weber Logistics, the 3PL partner for Delta's high-end goods.
"In regard to working with our customers and keeping their supply chains moving, I'd say that our customer engagement has been paramount," says David Hooper, senior director of logistics at Weber Logistics. "In many cases, the normal scheduling associated with warehousing and transportation has been disrupted. We now regularly adapt to our customers' changing needs in real-time, facilitated by regular communication between Weber and customer stakeholders. The end result is the same in that goods are moving precisely as they need to – it's just that the path to get there has been altered in the midst of this outbreak."
When the economy is down, such as now during the pandemic, there is less demand for high-end logistics, as it's considered a luxury compared to other sectors. What's more, pre-pandemic, clients were already cutting down on the quantity of product and focusing on a more on-demand model. These companies no longer want to have unused product loads taking up space in a warehouse, whether they are temperature sensitive or not.
For instance, Weber noticed that when it came to high-end food customers, they're no longer looking to buy napkins and other specialty items in bulk. Instead, they want to move exactly the amount of product needed for a season and re-order when the time comes.
"One of the major trends that we're seeing is a move toward on-demand inventory," says Hooper. "Companies are eliminating waste from their supply chains by ordering only what is needed and then exhausting that inventory before new orders of that item can be fulfilled. For instance, in the past, beverage napkins may have been swapped out with the seasons as a new season called for a new design. The unused napkins from the previous season would be put in storage until the next year. Now, they're ordering only what is anticipated for the season and then using the full supply before the next season's napkins are distributed. This eliminates waste and prevents excess stock from taking up space in the warehouse."
Since this sector is so sensitive to demand changes, this requires constant inventory management and SKU updates on the 3PL side of things to help prevent waste.
"Another possible pitfall is poor inventory management as SKUs change," adds Hooper. "Companies need to keep up with customer demands and may regularly update SKUs accordingly. It's part of our job to make such changes as seamless as possible from a logistics perspective."
More specifically, the seafood sector provides its own set of inventory challenges, as numerous outside factors can influence harvest.
"Products like seafood come with additional challenges you don't always see in other sectors," says Johansen. "The industry is often at the mercy of Mother Nature and not able to fully control when products will be available for harvest. Factors like variance in fish run locations and timing, bad weather and locally imposed quotas can cause volumes to fluctuate dramatically. This makes it critical for carriers to be able to adapt and react quickly. The Lynden family of companies take a multi-modal approach, especially with the Alaskan seafood market, to ensure customers have maximum flexibility in their supply chain planning. Air freight can be used for time-sensitive situations, and when time is less of a factor our barges can economically transport products and supplies. Of course, our truck routes handle everything in between and bring products the final mile to the customer."
Technology for the safe transport of luxury goods
Like many other sectors for 3PLs, technologies such as satellite tracking, routing systems and advanced communication systems have become important. These systems help keep partners informed of where the shipment is as well as helps reduce transportation times. But, in the cold chain and especially with high-end goods, temperature control technologies are incredibly important, as they maintain the actual health of food.
In the past, trucking was considered a risk for cold chain transportation. But, with the growth of technology, it is now safe and convenient to transport food on the road. Reefer units can now be controlled remotely and are also fitted with sensors that alert personnel when the temperature is not being maintained. There are now also dual temperature trailers that can simultaneously support the transportation of fresh and frozen food.
Also, order management systems control which orders are released into the warehouse to better serve pick-and-pack routes for various temperature zones. This can reduce travel time and streamline shipping processes.
"There are better systems available to carriers today than ever before," continues Johansen. "These include satellite tracking of the vehicles, advanced routing systems to minimize transit times, instant communication with drivers by smartphone or onboard GPS messaging system and refrigeration unit monitoring capabilities that include the ability to transmit messages to remote locations should the refrigeration unit fail to maintain the required temperature. Carriers can remotely change temperatures on the refrigeration units, and refrigeration units today can download trip data with charts and timelines showing the product temperatures throughout the course of a trip.
"Recent advances in truck technology such as automatic braking, onboard cameras and lane departure warnings all contribute to the safe operation of the carrier and help reduce accidents that put the safety of the driver and cargo at risk,'' says Johansen.
Technology in temperature management has become important in the cold chain for high-end goods. In recent years, prior to the COVID-19 outbreak, the FDA and other government organizations have created stricter guidelines for the industry to ensure the safety of consumers who could get sick from the mismanagement of food shipments.
"Recently, we've seen growth in sectors where trucking was once considered too risky of a mode of transportation," Johansen adds. "We've proven our ability to ship even the most challenging temperature-sensitive commodities by specializing in the transportation of live seafood such as clams, oysters, mussels, sea urchins and even sharks. These commodities allow for little margin of error, as any type of failure can result in the death of the products, which is quickly apparent upon delivery. Some of these commodities could even become deadly to consumers if temperature ranges or transit times were outside of the safety requirements of the products.
"We have seen an increase in safety requirements throughout the years, some of which were mandated by the federal government such as the FDA HACCP regulations and the FDA Transportation of Human and Animal Foods regulations," adds Johansen. "For the most part, these regulations are catching up to the best practices that high-quality carriers have been doing for years."
For 3PLs managing the high-end cold chain, safety, arrival and quality service remain top priorities. Tapping into modern technologies can help, especially during confusing time like now. As the world manages its economy and the health of the population, the transport of specialty goods will eb and flow along with it.