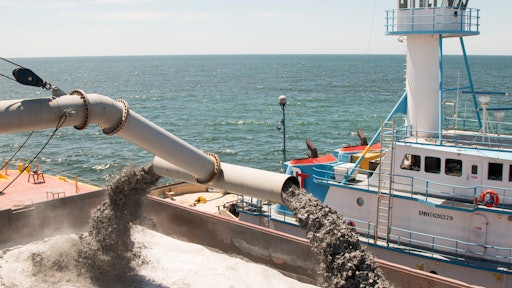 Sean McBride for the US Army Corps of Engineers
When most people think of large-scale commerce, they probably imagine trucks crossing the country on interstate highways packed with goods. However, shipping on waterways accounts for the overwhelming majority of foreign trade as well as a significant portion of domestic shipping via inland waterway channels like the Mississippi River. Maintaining these channels is necessary for ensuring that billions of dollars of goods are delivered on time and intact.
As commerce continues to grow in size and demand increases exponentially, it's becoming more urgent to modernize the waterway shipping system for engineering and adjusting the country's waterways—and to support future trade.
Increasing Challenges
The U.S. Army Corps of Engineers maintains waterways throughout the United States and wages a constant battle against the forces of nature. If a storm hits causing underwater sediment to shift and makes a port too shallow for cargo ships, the Corps must dredge that port to keep it open for shipping. To avoid running aground in the mud, ship captains and harbor pilots rely on the Corps for this work and for updates about port conditions. The United States moves 95 percent of its imported and exported goods by ship, so keeping its ports open is critical to the economy. 
With the 2016 Panama Canal expansion, the cargo capacity of ships traveling through this important channel nearly tripled. The number of ships entering the channel also increased, as did their drafts. Draft is the distance between waterline and keel, and it marks the necessary water depth for safe travel. These "New Panamax" ships have a fully loaded draft of nearly 50 feet, placing constraints on navigation that favor the nation's deepwater ports. This directly affects the flow of commerce. 
Fiscal Impacts
A variety of risks, including weather, can impact ports and the multiple stakeholders that depend on them. For example, when strong storms caused sediment buildup (known as shoaling) in the deepwater Port of Texas City in Galveston Bay, the port was forced to restrict shipping from the typical 45-foot draft to just 41 feet. This 4-foot difference had an economic impact on the port and the industries that rely on it. The lower draft meant that companies needed to use smaller ships to ferry cargo into the Gulf of Mexico for loading onto bigger ships or divert them to different ports.
The key Brazilian port of Santos has experienced similar storm-related restrictions. The port estimates that every day a vessel is not operating, shipowners lose between $10,000 and $75,000, depending on the size and type of ship. Restrictions on shipping for just one day in Santos collectively costs shipowners $1 million, not including losses to the port and the overall economic impact on Brazil's economy. The solution to this problem has historically been simple, but complexity grows as demands of commerce quickly expand 
Engineering Commerce
Without dredging, many ports would become impassable. The Corps regularly performs this maintenance chore that keeps 400 ports and harbors along 13,000 miles of deep-draft coastal channels and 12,000 miles of shallow-draft inland and intra-coastal waterways usable. Storm debris increases the Corps' regular workload, adding 250 million cubic yards to the material dredged from the nation's waterways every year. As a result, the Corps conducts regular hydrographic surveys across 22 coastal and 16 inland districts to assess channel safety and prioritize dredging needs.
The fiscal impact of dredging cannot be overstated. Consider that in 2017, the Port of Los Angeles/Long Beach increased the draft of the port complex from 65 feet to 66 feet. Each additional foot of draft means that larger ships can enter the port complex and carry more goods. Each foot of depth translates into considerably more cargo and value. 
The National Ocean Service, a division of National Oceanic and Atmospheric Administration (NOAA), puts this added capacity into perspective. With a foot more of draft, a cargo ship can carry:
684 more tractors, worth more than $45 million
378,624 more laptop computers, worth more than $262 million
9,274,800 more bushels of wheat, worth more than $720,000
61,728 more 55-inch televisions, worth approximately $26 million
And, the added capacity means fewer individual trips with less fuel consumed, which translates into dollars saved and greenhouse gas emissions reduced. But, the system can still be improved. 
Data-Driven Dredging
Recently, the Corps started using an enterprise-wide system dubbed eHydro that includes tools and workflows to catalog, organize and share surveys. eHydro is an application that easily—and almost automatically—feed the data from each survey into a Corps-wide system. Each dredging effort is a project, so eHydro acts as a centralized system of projects. It captures the horizontal and vertical dimensions of each dredging project as the work is completed and records surveys periodically conducted to assess current channel conditions.
Since implementing the approach, the Corps has seen marked improvements in the accuracy, consistency, timeliness and sharing of project information. The streamlined data aggregation allows for automation of regular reports on channel availability and conditions. Internal data sharing was a big advancement, but the full benefit comes from sharing with all stakeholders through the Corps Navigation Portal (navigation.usace.army.mil). 
Now, information can flow to NOAA to update the navigational charts. The Corps' data is by far the biggest outside source of data that NOAA uses in its nautical charts. Previously, information had to be gathered from each district, then "normalized" from the more than 20 formats that existed. Today, the Corps' data is accessible from a single web service.  
Modern Ports for a Modern Economy
The Corps now has a means for evidence-based decisions using eHydro to clearly compare present channel conditions and prioritize dredging funds against the impacts to commercial shipping. Typically, dredging projects are backlogged due to the sizeable workload demands along with time and budget constraints.
Furthermore, each dredging project must be carefully analyzed. For example, if one channel is authorized at a 35-foot depth and it's only 32 feet, the Corps has to balance the $5 million additional cost to get the channel to that depth against other projects. In some cases, it's more beneficial to dredge a deepwater port from 40 feet to 45 feet to accommodate today's larger ships.
However, thanks to eHydro, the Corps can now use location intelligence to more precisely balance these trade-offs.
Over the next 20 years, the volume of cargo traveling by container ship is projected to increase by 65 percent, according to the global management consultancy McKinsey & Company. With demand at ports and waterways rising steadily, the Corps' streamlined data-sharing efforts have an increasing impact on the flow of goods imported and exported from the United States.