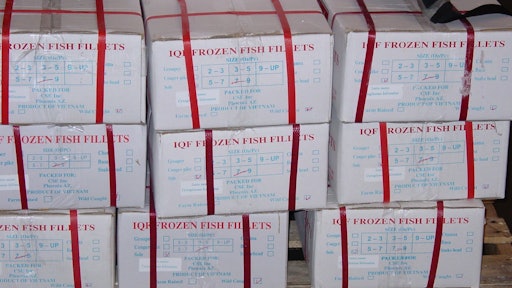 U.S. Customs and Border Protection (CBP) reports that agriculture specialists at the port of Cincinnati recently conducted an 8-day special operation highlighting the increasing trend of customers using e-commerce to purchase illegal agriculture products from Asia, according to Sandler, Travis & Rosenberg, P.A., specialists in customs and international trade law. This operation is part of a continued effort to interrupt what CBP calls "an extensive network of purposely mislabeled and high-risk agriculture products coming from Hong Kong, China, India and Saudi Arabia" and destined for locations such as ethnic restaurants, food stores and private residences.
CBP states that shippers and freight forwarders employ fictitious names and addresses and provide unrelated cargo descriptions in a continually evolving effort to smuggle illicit agriculture goods through U.S. ports of entry. A variety of concealment methods are also used; examples discovered in the Cincinnati operation included meat smuggled in fish packets and tea bags, fruits inside sealed cookie bags, loose and packaged seeds within candy wrappers, and seeds in foil-lined bags in an effort to avoid x-ray detection. The prohibited goods included fresh plums and other fresh plant products, eggs, propagative plant materials including invasive species, and fresh and processed poultry and pork products coming from countries with known virulent disease outbreaks such as highly pathogenic avian influenza and foot-and-mouth disease.
According to CBP, this operation yielded 1,104 inspected shipments, 73 shipments returned to origin, 198 emergency action notifications, four mis-delivery penalties and 98 mis-manifesting penalties netting a total of $98,000 in fines. Additionally, CBP destroyed over 900 pounds of contraband from 146 shipments and found 10 pest interceptions.
To read more, click HERE.