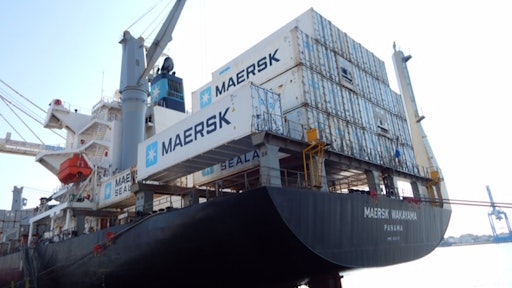 Mexico is the twelfth largest exporter of food products in the world, and the United States is the number one destination for the country's fruits, vegetables and other agrifood products.
Most of the exported food products enter the U.S. via truck along the southern border. However, a new service launched earlier this year by SeaLand offers an attractive and viable transportation option, particularly for time- and temperature-sensitive perishables.
SeaLand is the regional, intra-Americas ocean carrier that Maersk Group reinstituted several years ago. In January, the carrier launched its Atlantico service linking Altamira and Veracruz, Mexico to Philadelphia with a six-day transit time.
According to the carrier, "The SeaLand Atlantico service offers an alternative transportation option for trade between the regions, which is characterized by the use of ground transportation on 95 percent of its volumes. This option is especially geared for producers and exporters of perishable goods to the U.S. and provides the economies of scale, security and reliability of an ocean service combined with an expedited transit, ideal for moving goods such as avocados, lemons, tomatoes and commercial cargo."
Ariel Frias Ducoudray, business development and marketing manager at SeaLand, said there are a number of advantages associated with the new service.
"The marketplace has been quite positive about the SeaLand Atlantico. Customers are taking advantage of the economies of scale they are able to achieve by using ocean transportation instead of the traditional trucking between Mexico and the United States," which also eliminates the need to transload truck shipments in Texas.
"The increased payload they are able to transport has been a big plus for them so far," he says.
Port, Logistics Partners Key to Success
The success of SeaLand's Atlantico service is shared among the carrier's various logistics partners.
Holt Logistics is one such partner. The company specializes in handling refrigerated and frozen cargoes, as well as cargoes such as steel, forest products and project cargo, with multiple warehouse complexes in both Philadelphia and southern New Jersey that are conveniently located on the marine terminals.
Gloucester Terminals LLC operates one of the largest dockside complexes of refrigerated and frozen warehouses on the U.S. East Coast, while the Packer Avenue Marine Terminal is the largest container terminal on the Delaware River and handles fruit, frozen meat and other specialized cargoes.
Holt's cold storage facilities benefit from on-site USDA, CPB, FSIS, FDA and U.S. Customs and Border Protection (CBP) inspectors to facilitate cargo processing.
According to Holt Logistics' Todd Brown, 99 percent of CBP inspections take place on-dock, which further enhances speedy cargo inspection and release.
The Port of Philadelphia also views the success as a collaborative effort.
Dominic O'Brien, senior marketing representative, notes that, "It's really the entire port community that is involved in supporting Atlantico. Warehouse companies, freight forwarders, truckers, fumigators, as well as the Holt organization have all come together to grow the Atlantico service. It has been a real team effort," he emphasizes, adding that, "The reason that Mexican produce and meat exporters want to come to Philadelphia is the broader port community's strength in the cold supply chain. All those links are strong at the Port of Philadelphia."
That collaborative relationship extends to all players in the supply chain, including longshoremen. The International Longshoremen's Association Local 1291 offers 19 daily start times versus four in competing ports.
In addition, "The local longshoremen certainly have a 'can do' business spirit. They have become experts in the cold supply chain over the years, and their training and focus on the cold supply chain and food products is evident in our national leadership in fruit—Delaware River ports are number one in the U.S.," says O'Brien, while food products overall are a top business driver. Last year, "Delaware River ports imported over $5 billion in food products," he says.
While infrastructure investments obviously qualify Delaware Ports as a strong competitor in the perishables business, "most importantly, it's the teamwork among the port community and our focus on the cold supply chain," O'Brien says.
SeaLand's Frias Ducoudray agrees. "Working together with the Port of Philadelphia and Ship Philly First was a great way to ignite the SeaLand Atlantico." More than a dozen companies that operate and service the Port of Philadelphia launched Ship Philly First in 2011. Its sole mission is to promote the Port.
"We have been partnering with them since day one and by doing so have been able to speak to larger customer audiences than what we would have been able to do by ourselves. We have also done the same with authorities and ports south of the border for this service. By having every stakeholder invested in the success of this project, we are able to join forces and collectively drive the benefits of this new and innovative option. Our collaboration model has worked very well, and we will continue to partner with ports, rail and truck operators, 3PL's and authorities for future projects like the Atlantico," says Frias Ducoudray.
As for the future, he says that, "We periodically incorporate tweaks to the network in order to improve our service offering across North and South America. The SeaLand Atlantico is still a developing service with plenty of room to grow, so we will continue to strengthen its offering in the next few months."
Aside from food shippers, the 100 percent containerized service is also attractive to beer shippers, while future prospects could likely include shippers of auto parts and other products.