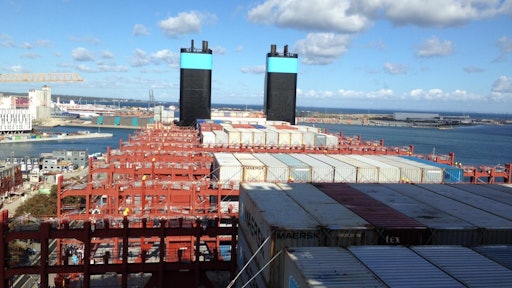 Hapag-Lloyd has become the most recent ocean carrier to team with INTTRA, an ocean shipping electronic marketplace. Hapag-Lloyd will connect with the INTTRA e-VGM Service for facilitating compliance with the International Maritime Organization's container weight requirements, according to Port Technology.
Food Logistics reported earlier this month that CMA CGM launched an electronic portal via its website to assist with the new Safety of Life at Sea (SOLAS) amendment.
The e-VGM service is available in two versions for carriers and shippers and provides the operational capabilities for digital submission, receipt, processing and auditing of SOLAS-compliant VGMs.
In December 2015, the companies joined forces when Hapag-Lloyd became a founding member of the INTTRA e-VGM Alliance, which has worked to help the industry address the challenges of SOLAS VGM with a digital approach.
To read more, click here.
Editor's Insight: INTTRA is one of several technology providers to facilitate digital delivery of VGM data to help shippers and carriers comply with the SOLAS amendment.
Robert Voltmann, president and CEO of the Transportation Intermediaries Association, has said technologies and software such as e-mail, Microsoft Office programs, and Adobe Acrobat, should suffice for providing VGMs, Food Logistics reported in March. Anna Kuznetsova, president and chief operating officer of the platform provider INTTRA, noted that her company's e-VGM service will help carriers dealing with multiple shippers organize their data.
The Global Cold Chain Alliance has published a guidance document that notes cold storage operators that facilitate deliveries to ports will likely to be requested to provide the VGM data for containers. 6-23-16 By Elliot Maras