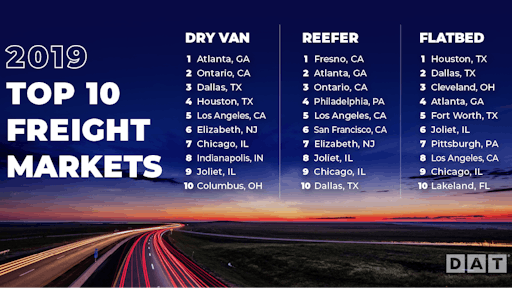 Atlanta was the No. 1 market to find spot truckload van freight in 2019, according to DAT Solutions, which operates the largest truckload freight marketplace in North America. A spot load is transactional freight not under contract that a shipper or broker makes available to carriers on the DAT network of load boards.
Fresno, California, was the market with the most available refrigerated loads while Houston was the top market for flatbed freight posts. The rankings are based on an analysis of more than 256 million freight matches and a database of $68 billion in market transactions on DAT load boards in 2019.
Because spot freight is unscheduled freight, it is seen as a dynamic indicator of economic activity. Below are the top 10 markets for outbound truckload freight by equipment type in 2019:
Van loads:
1. Atlanta
2. Ontario, Calif.
3. Dallas
4. Houston
5. Los Angeles
6. Elizabeth, N.J.
7. Chicago
8. Indianapolis
9. Joliet, Ill.
10. Columbus, Ohio
Refrigerated loads:
1. Fresno, Calif.
2. Atlanta
3. Ontario, Calif.
4. Philadelphia
5. Los Angeles
6. San Francisco
7. Elizabeth, N.J.
8. Joliet, Ill.
9. Chicago
10. Dallas
Flatbed loads:
1. Houston
2. Dallas
3. Cleveland
4. Atlanta
5. Fort Worth, Texas
6. Joliet, Ill.
7. Pittsburgh
8. Los Angeles
9. Chicago
10. Lakeland, Fla.