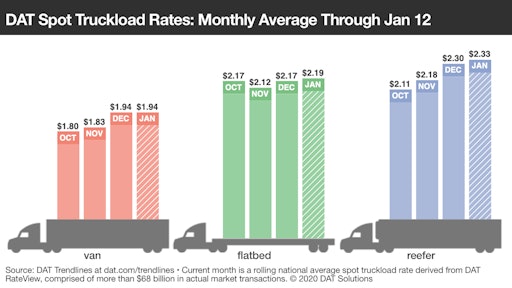 Van freight volumes returned to pre-holiday levels during the week ending Jan. 12, said DAT Solutions, which operates the largest electronic marketplace for spot truckload freight.
National average spot van and refrigerated rates fell slightly compared to the previous week but remain at their highest points in 13 months. Seasonal patterns suggest that rates and volumes will soften over the next several weeks, however.
National Average Rates, Jan. 6-12:
Van: $1.94 per mile, on par with the December average but trending down
Reefer: $2.33 per mile, 3 cents higher than December
Flatbed: $2.19 per mile, 2 cents higher that December
Van Trends: Volumes increase, for now
Van freight volumes typically retreat in January and February but we have yet to see it. In fact, freight availability last week brought out more carriers to search for loads, pushing rates lower on 73 of DAT's top 100 van lanes.
Denver and Buffalo, New York, bucked the trend. Several outbound lanes were higher although the return trips were not:
Buffalo to Chicago: $1.77 per mile, up 12 cents. The return fell 26 cents to $2.78.
Buffalo to Charlotte: $2.43 per mile, up 16 cents. Charlotte to Buffalo lost 38 cents to $2.24.
Denver to Albuquerque: $2.17 per mile, up 9 cents. The return trip lost 17 cents to $2.30 and load availability was low.
Denver to Houston: $1.31 per mile, up 4 cents. Houston to Denver went for $2.06, up 5 cents.
Reefer Trends: Neutral volumes
Spot reefer freight volumes were virtually unchanged from the previous week but average rates were higher on just 15 of the top 72 lanes by volume. Rates on lanes heading north from Miami and Lakeland, Florida, were down after big increases the previous week. Miami to Baltimore plummeted 21 cents to $1.70 per mile.
Reefer rates do tend to rise when the weather is poor because there's less competition from other carriers and, in some cases, shippers with freight in cold locales need trailers to keep temperature-sensitive cargo from freezing.
DAT Trendlines is based on RateView, a database of $68 billion in annual market transactions.