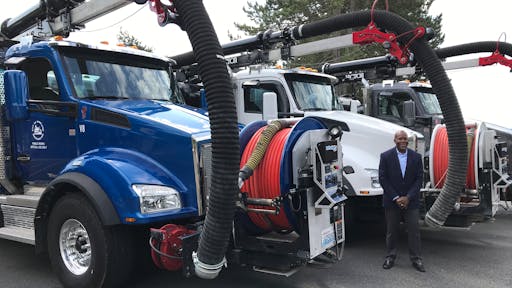 Kenworth
Kenworth's TruckTech+ Service management program continues to gain momentum with its fleet customers.
Currently, more than 26,000 fleet trucks are participating in the company's TruckTech+ Service Management offered by PACCAR Parts to Fleet Services Customers. Through PACCAR Parts, fleets with 100 trucks or more receive a line of credit as well as preferred and consistent parts pricing throughout U.S. and Canada. Qualifying customers can elect to use Kenworth's TruckTech+ Service Management to manage their Kenworth Class 8 and medium duty trucks.
"We introduced the web-based fleet portal this past spring, and the response has been tremendous," says Laura Bloch, Kenworth assistant general manager for sales and marketing. "Kenworth TruckTech+ Service Management offers customers an easy way to track and manage the service and maintenance history of their Kenworth trucks, while documenting any fault codes the truck might experience. It also provides real-time visibility on repair status, and gives dashboard data on service and repairs for all the fleet's trucks enrolled. This allows fleets to effectively manage individual trucks, and the fleet as a whole. The information captured and presented gives customers actionable intelligence."
Meanwhile, Service Management takes Kenworth TruckTech+ to the next level as it allows customers to have complete control and documentation on any service performed by Kenworth. The information in then available on any device, significantly reducing time while creating a full paper trail. 
The program also benefits the next buyer as well. 
"Once the truck is ready to be sold, the customer will have a complete service history ready for the next buyer," Bloch said. "That's of great benefit and a selling point for our customers. No one likes to be in the dark when it comes to the repairs performed over a truck's life. And, since a qualifying fleet buyer purchasing the used truck also may subscribe to Kenworth TruckTech+ Service Management, those service records can continue on, giving cradle-to-grave service records," Bloch says. 
While Kenworth TruckTech+ Service Management gives a 'micro' look, in the years to come, fleets will have a full picture of how their trucks are operating and can see trends in service and parts replacement intervals. 
Companies in this article