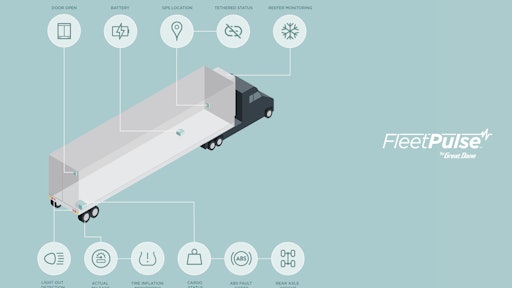 Great Dane
At the 2019 North American Commercial Vehicle Show (NACV Show), Great Dane introduced its new smart trailer telematics system, FleetPulse.
"FleetPulse is laying the foundation for technologies beyond telematics," says Mike Molitor, Great Dane's Director of Business Development. "The transformational shifts that will occur in our industry, such as autonomy, electrification, and smart distribution centers, will require the trailer to be designed and wired differently than it is today. And we've built FleetPulse with these technological advances in mind."
It took three years to build FleetPulse from the ground up. The company used prior trailer experience and evaluated what they have been doing throughout its history to help create something that would improve safety and efficiency through data.
"FleetPulse provides a high-resolution view into the conditions of the trailer's components, and pairs that information with other proprietary information on the asset, including things like specs, aftermarket parts numbers, and tools from all of the component suppliers that help drive maintenance costs down," Molitor said. "Each trailer on the road is unique in how it was built, and that information is critical when it comes to maintaining trailers – and it's information that only the OEM has."
The solution has been carefully designed from end-to-end to meet the high standards of even the most sophisticated fleets. The system's built-in sensors collect precise measurements directly from the trailer's components, keeping watch over key indicators such as tire inflation systems, open doors, cargo weight, burned-out lights, ABS fault codes and actual mileage. The data is collected and reported through a robust 4G platform, so fleets are alerted to potential issues and receive reports on what maintenance needs to occur and when.
"We believe it's the most advanced light out detection technology in industry," Great Dane officials told the crowd at NACV.
FleetPulse helps solve problems faster while increasing uptime by leveraging each trailer's usage and health data with access to Great Dane's parts list.
"The platform and sensors are hardwired, reliable and accurate from day one," Molitor says. "And the architecture, both on the physical trailer as well as the architecture of the data protocols flowing throughout the trailer and up to both the cloud and truck, are the reasons that an integrated solution like FleetPulse, built at the OEM level, is the only way to provide fleets with the clarity and insights needed to support and grow their operations into the future."