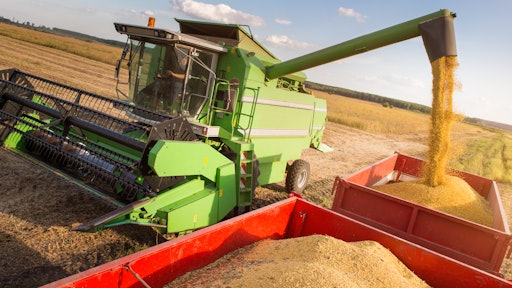 Getty Images
After refusing to buy soybeans because of the trade war, China has once again started to purchase the grain from the United States.
According to Reuters, soybean imports from the United States to China increased three-fold from the previous year as a trade truce arrived.
China is the world's top buyer of soybeans, and only purchased 308,127 tonnes from the United States last year when the trade war first started. The country began buying the grain from Brazil, though, outsourcing the product from other countries was unable to equal the amount that the country previously bought from the U.S. In order to make up any shortfall, Chinese farmers were encouraged to plant more soy.
"Whatever they're buying is non-U.S.," Bunge Ltd. CEO Soren Schroder tells Bloomberg at the start of the trade war last March. "They're buying beans in Canada, in Brazil, mostly Brazil, but very deliberately not buying anything from the U.S.
Now, China is back to purchasing the oilseed from the U.S., bringing in 911,888 tonnes.
The country temporarily resumed buying soybeans back in December following a bilateral truce. However, tensions grew worse over recent weeks with both countries slapping extra duties on products, and China threatening to stop all agriculture purchases.
China's July soybean imports from Brazil came in at 6.42 tonnes, down 8.9% from last year's 7.04 million tonnes, but up 16.8% from 5.498 million tonnes in June, Reuters reports.
Meanwhile, China's soybean imports rose last from compared to last year as some of U.S. cargoes arrived.
Part of the import demand could be attributed to the year-old African swine fever disease that is currently plaguing the country. Prompting the country to purchase more agricultural products, including pork and soybeans, from the U.S.