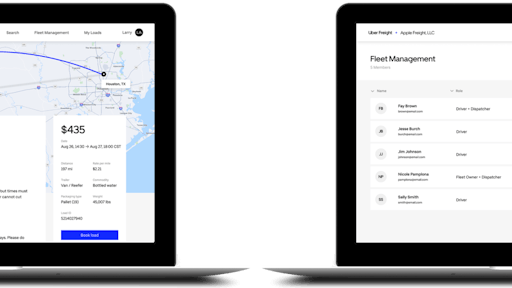 Uber Freight
Uber Freight has utilized technology to make the experience of finding and booking the right freight seamless for carriers and the drivers, regardless of their size and how they operate.
The company has introduced a new web portal that is designed to help dispatchers simplify their workflow. In addition, its app will also have a new interface, built to ensure a more intuitive experience. The web portal and the app will make it easier for carriers to keep trucks moving and business flowing.
Uber Freight's web portal was built with users in mind, making it easy to navigate as it is designed entirely for desktops and laptops. Now with several optimized platform options, carriers, dispatchers and drivers can easily access the company and all of the information that is needed to run their business, whether its on the road or in the office.
In addition, the web portal allows dispatchers to view and book loads, assign them to available drivers and manage them from end-to-end from their web browser. Dispatchers can also list their trucks' availability, and ideal loads will be recommended to them and available to book within the portal as well.
Mobile experience is also becoming more seamless as Uber Freight has improved its app interface for faster, more intuitive booking, all inspired by direct feedback from carriers and their drivers.