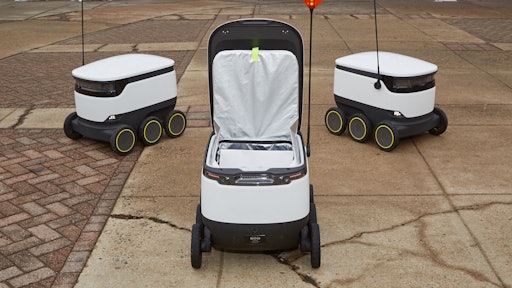 Students at George Mason University will soon be able to have meals at their disposal with the help of some autonomous robots.
Similar to the PepsiCo trial at University of the Pacific in Stockton, California, George Mason University received a fleet of 25 delivery robots, created by Starship Technologies, with each being able to haul up to 20 pounds across campus at four miles per hour. The Washington Post reports that the university is the first to incorporate its dining plan with the robots. Delivery cost is $1.99.
"Students and teachers have little free time as it is, so there is a convenience for them to have their food, groceries and packages delivered to them," Ryan Tuohy,Starship Technology's senior vice president of business development tells the Post. "Our goal is to make life easier, whether that means skipping the line, eating lunch on the lawn rather than in the cafe, or finding the time to eat better when studying for exams."
Students are able to use the company's app to order items from places such as Blaze Pizza, Starbucks and Dunkin, as well as the grocery store. Once an order is placed, users assign where they want their delivery to be sent and they can track their order's progress. According to the Washington Post, once the machine arrives, users receive an alert, allowing them to unlock the robot using the app.
Venture Beat reports that the robots rely on artificial intelligence, ultrasonic sensors and nine cameras to make their deliveries. Two-way audio allows users to communicate with human teleoperators who monitor the machines and are able to take over at any moment.