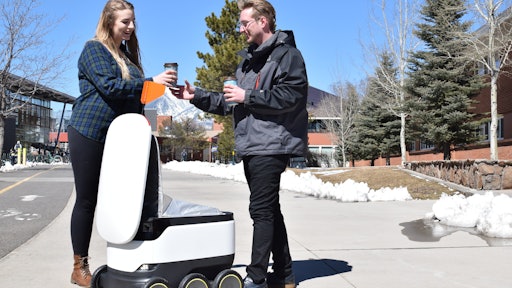 Parks and Recreation characters Leslie Knope and Ron Swanson aren't the only people who think that breakfast is the best meal of the day. Colleges that offer robot delivery have seen an uptick of breakfast orders as more students are starting to prioritize the meal.
Sodexo and Starship Technologies report that an extra 1,500 breakfast orders have been delivered autonomously since the two companies joined forces to debut the Starship delivery robots at George Mason University at the end of January, following a similar pattern at other campuses where delivery robots were added.
To raise awareness of the breakfast offerings, the companies are partnering with Einstein Bros. Bagels and are offering free breakfast for the remaining academic year to the Northern Arizona University student who places the first order via the Starship app. Students can now use the app to order food and drinks from local retailers to be delivered anywhere on campus, within minutes. Each on-demand delivery reportedly costs $1.99 and works with the student meal plan.
"We've been very pleased with how quickly Starship has been embraced on college campuses," said Ryan Tuohy, SVP, Business Development, Starship Technologies. "These campuses are hubs of innovation and activity, with both students and faculty needing convenient and flexible services. Our on-demand delivery is perfectly suited to this environment and we can't wait to introduce our robots to the students and faculty at Northern Arizona University."
Sodexo and Starship plan to continue to expand the program to additional campus locations globally in the future.