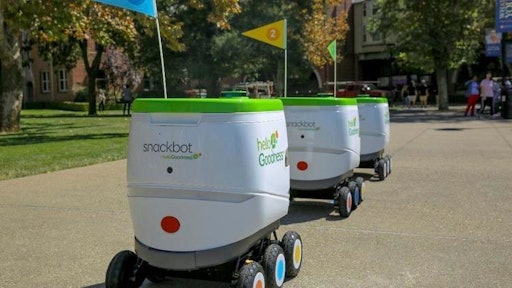 PepsiCo is just the latest company to jump on the autonomous vehicle trend as it began testing self-driving robots on Thursday. The robots will make food deliveries to students at the University of the Pacific in Stockton, California. The bots will be made by Robby Technologies.
According to the Chicago Tribune, students will be able to order Baked Lay's, SunChips or Bubly sparkling water on an app, and then meet the six-wheeled robot at more than 50 locations on the University's campus. Customers can track their order and open the machine's lid using a button in the app. Though, meeting the robot during a particular delivery window is key as it will only linger at a delivery location for 10 minutes befor emoving on to its next customer.
The Chicago Tribune reports that the robots will move upwards of 6 miles per hour and three student workers will refill the robots with food and drinks and replace the batteries. Three robots will be used at first and will eventually grow to a fleet of five. The are less than 3 feet tall and self-drive, stopping when someone is in front o fit.
The company is reportedly testing ways to deliver snacks to become more convenient to customers that want to purchase items off their phones.