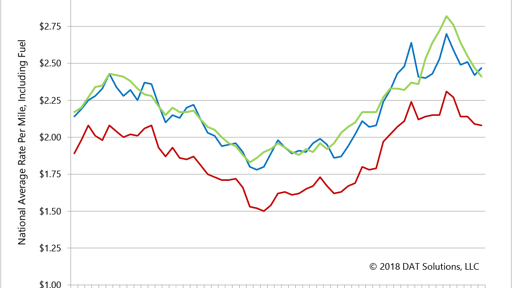 Spot market freight volume and rates slid in November for most equipment types, reported DAT Solutions, which operates the largest online marketplace for truckload freight in North America.
According to the DAT Freight Index, November volume was 2.5 percent lower month over month, and 24 percent percent under last year's extraordinary seasonal mark. Freight rates remained stable for vans while flatbed rates slipped 7 cents lower for the month in a typical seasonal pattern.
Reefer cargo bucked trends by rebounding before Thanksgiving with an 8 percent increase in availability and a 2.5 percent bump in the average per-mile spot rate from October.
"Spot market volumes and rates are likely to rise through December, as e-commerce deliveries continue to ramp up," says DAT market analyst Peggy Dorf. "Retailers are offering nearly unlimited free shipping to online customers during the holiday season, boosting orders and adding to pressure on freight transportation and logistics."
The DAT Freight Index reflects load posting volume on the DAT network of load boards, and 100 on the Index represents the average monthly volume in the year 2000. Additional trends and analysis are available at DAT Trendlines. Referenced rates are the averages by equipment type, based on $57 billion of actual transactions, as recorded in DAT RateView. Rates per mile include fuel surcharges, but not accessorials or other fees.