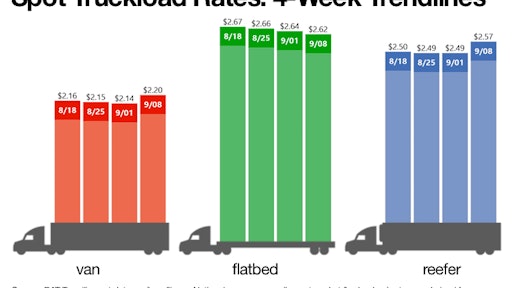 The Labor Day holiday and the need to position freight ahead of Hurricane Florence making landfall in the Southeast and Mid-Atlantic U.S. led to an increase in spot truckload van and refrigerated freight rates during the week ending Sept. 8, said DAT Solutions, which operates the DAT network of load boards.
Reversing several weeks of seasonal declines, the national average spot van rate jumped 6 cents to $2.20/mile while the reefer rate gained 8 cents to $2.57/mile compared to the previous week.
The flatbed rate continued to decline, falling 2 cents to $2.62/mile.
Load board activity typically declines 20 to 25 percent during a holiday week. Van capacity was especially tight, however, and there was extra demand on the spot market as brokers looked for trucks to move FEMA loads.
VAN TRENDS: The number of van load posts on DAT load boards fell 6 percent while truck posts fell 14 percent, sending the national van load-to-truck ratio up 10 percent to 7.3 loads per truck. Average outbound rates rose 1 cent from Charlotte ($2.48/mile) and Atlanta ($2.35/mile), and rates increased on several key regional lanes:
Chicago to Los Angeles: $1.68/mile, up 12 cents
Allentown, Pennsylvania, to Boston: $4.25/mile, up 9 cents
Atlanta to Lakeland, Florida: $3.08/mile, up 6 cents
REEFER TRENDS: Reefer load posting activity had a steeper decline (down 16 percent) than reefer truck posts (down 6 percent) during Labor Day week. That pushed the national reefer ratio down from 9.2 to 8.3 loads per truck.
Dallas ($2.38/mile, up 7 cents), McAllen, Texas ($2.24/mile, up 3 cents), Philadelphia ($3.53/mile, up 6 cents), Elizabeth, New Jersey ($2.41/mile, up 10 cents), and Grand Rapids, Michigan ($3.85/mile, up 12 cents) were among markets with stronger average outbound rates week over week.
FLATBED TRENDS: The national flatbed load-to-truck ratio was virtually unchanged at 25.5 loads per truck. Flatbed load posts on DAT load boards declined 17 percent and truck posts fell 18 percent, in line with expectations given the holiday workweek.
DAT Trendlines is generated using DAT RateView™, an innovative service that provides real-time reports on prevailing spot market and contract rates, as well as historical rate and capacity trends. RateView's comprehensive database is comprised of more than $45 billion in freight bills in over 65,000 lanes. DAT load boards average 993,000 load posts per business day.