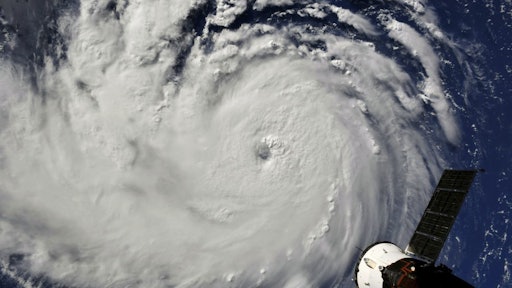 While the trucking market has remained stable the last two months, Hurricane Florence is expected to disrupt freight markets.
According to Freight Waves, the storm could wreak havoc on spot rates and capacity in the market. Hurricanes increase demand for trucking services, and in a market where demand is at an all-time high companies may not be able to up their fleets, effectively disrupting supply chains and throwing the market off balance.
Since Hurricane Fran hit the East coast in 1996, the role that Eastern ports play in the national freight network has only increased, Freight Waves reports. Twenty years ago, supply chains were less dependant on just-in-time inventories and world trade, but now it has the fastest growing ports in the U.S. with Norfolk, Savannah and Charleston.
Each port is expected to carry millions of more cargo this year than it did in 1996. With Florence expecting to hit the ports at the start of the peak season for freight markets, any disruption will have a domino effect on freight networks, Freight Waves reports. Retailers will have to bring in their products through other ports, which could potentially trigger spot market inflation yet again.