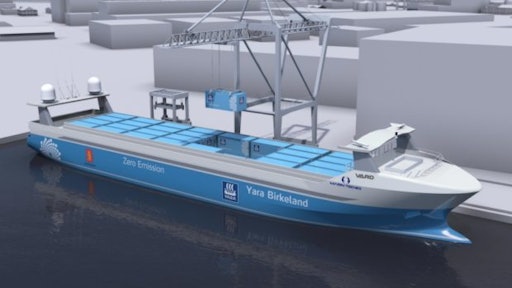 Norway is positioning itself as a leader in alternative propulsion systems as the 'Yara Birkeland' becomes the first autonomous electric container ship to chart the sea. According to Clean Technica, the ship will commute with the freighter between ports and abandon use of diesel-powered trucks, replacing upwards of 40,000 truck journeys each year.
The Yara Birkeland isn't a large cargo ship, at only 70 meters long and 14 meters wide the ship will hold 120 containers and not house any people, Clean Technica reports. The ship is expected to be delivered 2020 and will be fully autonomous and operational by 2022.
The ship will run on batters that will hold seven and a half to nine megawatt hours. Since the technology is insufficient for long distances, the ship is expected to only make short routes.
For several years Norway has been looking toward autonomous electric ships as a solution for its large coastal shipping network.