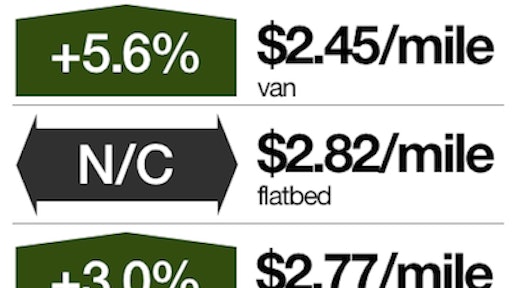 Spot truckload freight rates shot up to new heights at the end of June, only to skyrocket further during the Fourth of July holiday week.
The national average spot van rate on the DAT network of load boards increased 13 cents to $2.45/mile during the week ending July 7, while the refrigerated rate gained 8 cents to $2.77/mile. The flatbed rate was unchanged compared to the previous week at $2.82/mile.
As rates set records, a 32 percent decline in the number of available loads and an 11 percent drop in capacity reflected the short workweek last week and exceptionally high volumes during the final week of June.
VAN OVERVIEW: The number of van load posts was down 26 percent while truck posts fell 12 percent, which cause the load-to-truck ratio to fall from 9.2 to 7.7 loads per truck. Weekly average spot rates increased on 55 of the Top 100 van lanes. Forty-three lanes were down and two were neutral; most rate declines were small, however. In the last four weeks, van rates have risen 6.5 percent in the Top 100 lanes.
FLATBED OVERVIEW: The national load-to-truck ratio for flatbeds fell for the fourth week in a row, down to 52.9 loads per truck. That's still high but it's less than half the early-June level of 109 loads per truck. Last week, there was a 37 percent decrease in the number of flatbed loads and a 19 percent decline in truck posts. The national average flatbed rate held steady.
REEFER OVERVIEW: Reefer load posts on DAT load boards fell 33 percent while truck posts were down 4 percent. That caused the load-to-truck ratio to decrease from 13.2 to 9.3 reefer loads per truck. While the national rate increased, several markets showed signs of settling:
Elizabeth, N.J.: $2.19/mile, down 20 cents
Philadelphia: $3.35/mile, down 32 cents
Atlanta: $3.39/mile, down 14 cents
Miami: $2.35/mile, down 8 cents
Green Bay, Wisc: $3.94/mile, down 40 cents
Dallas: $2.90/mile, down 10 cents
California remained a bright spot for spot reefer rates, led by Los Angeles, up 16 cents to an average of $3.78/mile last week.